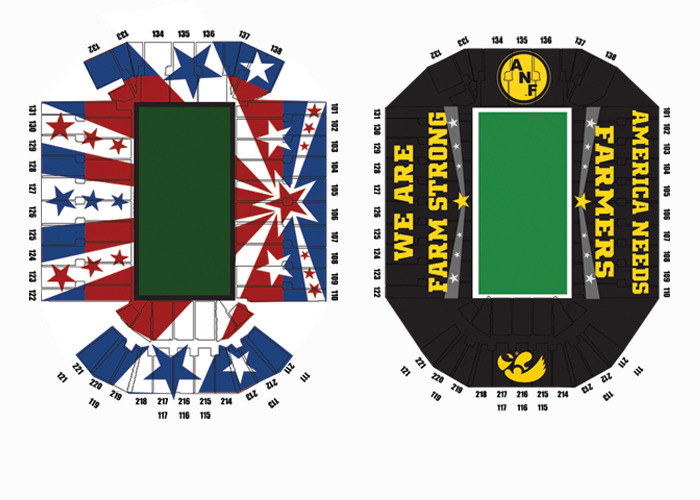 Oct. 29, 2014
IOWA CITY, Iowa – If fans of the Iowa football team ever wanted to choose a game to arrive early and enjoy the show prior to kickoff, they might want to think about doing exactly that Saturday when Iowa entertains Northwestern in the first of three games to be played in November in Kinnick Stadium by the Hawkeyes against Big Ten Conference West Division rivals.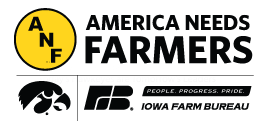 Here's the line-up of activities that have been scheduled by the UI Athletics Department and the Iowa Farm Bureau, the Hawkeyes' partners on "ANF Day at Kinnick," the UI's annual celebration of America's – and Iowa's – farmers. The UI Athletics Department suggest you be in your seat at no later than 10:30 a.m., Saturday, to enjoy what promises to be an exciting experience for all.
Annual ANF Day at the Game
On Saturday, the UI Athletics Department will again partner with the Iowa Farm Bureau on a day-long celebration of America's – and Iowa's – farmers and Hayden Fry, the former head coach of the Iowa Hawkeyes who introduced ANF – America Needs Farmers – during the Hawkeyes' 1985 Rose Bowl season when the farm crisis of the 1980s was hitting the Heartland exceptionally hard. For more details about ANF, visit AmericaNeedsFarmers.org.
ANF Legends Tent, Krause Family Plaza
As done annually, the Iowa Farm Bureau's celebration of America Needs Farmers will include an extensive presence in the Krause Family Plaza. Friends and fans of the Hawkeyes will be able to visit with and secure autographs from a variety of former Hawkeyes, purchase ANF merchandise, participate in a variety of other activities staged by the Iowa Farm Bureau including taking a picture with ANF Herky from this past summer "Herky on Parade." The fun begins at 8:30 a.m.
Autograph Schedule inside the
Iowa Farm Bureau ANF Tent at Krause Family Plaza
8:30 a.m. – 9:00 a.m. – Gary Dolphin/Ed Podolak
9:00 a.m. – 9:30 a.m. – Bruce Nelson/Dallas Clark
9:30 a.m. – 10:00 a.m. – Allen Reisner/Pat Angerer
The Hawkeye Marching Band
The pre-game show inside historic Kinnick Stadium will officially get underway with a performance by the Hawkeye Marching Band which will include the forming of the letters "A", "N", and "F" in honor of ANF Day at Kinnick Stadium. From the Band's official world wide web site: The 250-member Hawkeye Marching Band presents pregame and half-time shows at all Iowa home football games, and at one or two away games each season. This band is the most visible ensemble in the School of Music and is the largest student organization on campus. Comprised of students from nearly every major within the University, this time-honored organization combines quality musicianship, Hawkeye spirit, pride and dedication to create their nationally renowned gridiron excitement. In addition to our 250 musicians, performances by the HMB include our drum major Quentin Marquez, Golden Girl Whittney Seckar-Anderson, and the award-winning Iowa Dance Team. The HMB performs for over 70,000 fans in historic Kinnick Stadium during each home game.
Introduction of Kid Captain and Honorary Captain
As always on a football game day at historic Kinnick Stadium, the UI Athletics Department teams with the University of Iowa Children's Hospital to salute a "Kid Captain." This Saturday's honoree is 11-year-old Caitlyn Hill of Iowa City. Caitlyn will be joined on the playing field by this week's Iowa Football honorary captain. That former Hawkeye will be officially announced later this week.
Miss Iowa, Aly Olson, and the signing of "God Bless America"
The current Miss Iowa, University of Iowa student and Presidential Scholar, Aly Olson of Des Moines, will sing "God Bless America" live from the playing field during pregame and immediately prior to the playing of the national anthem by the Hawkeye Marching Band. Ms. Olson will join a very short list of individuals who have performed live at Kinnick. "Stephen Swanson, my UI voice professor, helped me rehearse the song and reminded me that the song was written during World War II. As I sing, I will be thinking about all of our men and women in service and their families. I am so thankful to be an American, an Iowan, and a Hawkeye. Go Hawks!" Olson said after her practice at Kinnick Stadium two weeks ago.
Salute to our Veterans
The UI Athletics Department will use the live performance of Miss Iowa, Aly Olson, as the stage to salute America's military veterans in advance of Veterans Day 2014 (Nov. 11). More than 1,400 veterans are currently students, faculty, or staff at the University of Iowa. Earlier this year the UI was once again named to Victory Media's list of "Military Friendly Schools." The list honors the top 15 percent of colleges, universities, and trade schools that are doing the most to embrace America's military service members and veterans as students and ensure their success on campus.
The UI's Second "Card Stunt"
Fans in the grandstands of Kinnick will participate in two "card stunts" during pregame. The first, which will be black and gold, and ANF-themed, will occur during the singing of "God Bless America" by Miss Iowa, Aly Olson; the second will be red, white, and blue-themed and will be staged during the playing of the national anthem by the Hawkeye Marching Band. The UI Athletics Department and the Iowa Farm Bureau staged Kinnick Stadium's first card stunt five seasons ago. The Hawkeyes also played Northwestern that day.
On-Field Banner in Red, White, and Blue
The pregame show will include the presentation of a banner in the shape of the continental United States that measures 50 yards wide by 30 yards tall. It will be held in place by approximately 100 current UI students who are also military veterans.
On-Field Banner featuring the ANF Logo
The pregame show will also include the presentation of a banner that features the official ANF logo and measures 15 yards wide and 15 yards. It will be held in place by approximately 60 Iowa farmers and their family members.
End of First Quarter – Former Hawkeye Bruce Nelson and the ANF Wall of Honor
Each ANF Day at the Game, the UI Athletics Department and the Iowa Farm Bureau officially adds a former Hawkeye to the ANF Wall of Honor located inside ANF Plaza which is located at the northwest corner of Kinnick Stadium. Former Hawkeye All-American and Super Bowl participant Bruce Nelson is the 2014 ANF Wall of Honoree. Nelson, who currently farms in his hometown of Emmetsburg, Iowa, will be introduced on the playing field during the break between the first and second quarter of Saturday's game. Casey Weigmann and Jared DeVries were the first two Hawkeyes named to the ANF Wall of Honor.
Tickets – including discount-priced youth tickets for use by boys and girls 18-years-old and younger – are available for Saturday's game and can be purchase do online HERE, at the UI Athletics Ticket Office in Carver-Hawkeye Arena, and by calling 1-800 IA-HAWKS.