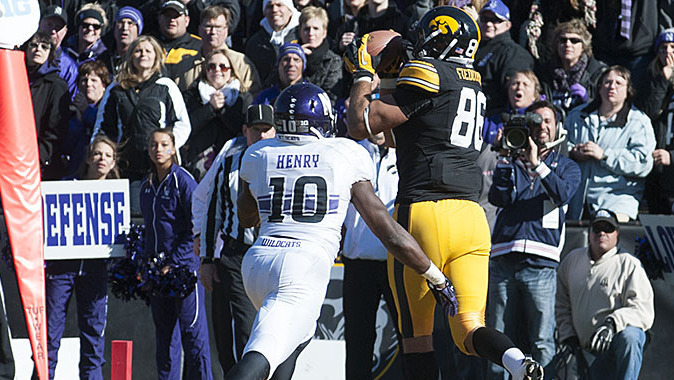 Oct. 29, 2014
Editor's Note: The following first appeared in the University of Iowa's Hawk Talk Daily, an e-newsletter that offers a daily look at the Iowa Hawkeyes, delivered free each morning to thousands of fans of the Hawkeyes worldwide. To receive daily news from the Iowa Hawkeyes, sign up HERE.
By DARREN MILLER
hawkeyesports.com
IOWA CITY, Iowa — Quinton Alston isn't looking at the big picture. The senior linebacker for the University of Iowa sees nothing but Northwestern purple in front of him as the football Hawkeyes prepare to enter the key month of November.
In its eighth game of the season, Iowa owns a record of 5-2 overall, 2-1 in the Big Ten Conference. Northwestern is 3-4, 2-2.
"It's time to get back to work; this is a big time for us," Alston said Tuesday before practice. "We need to focus on one game at a time and not think about the big picture."
The big picture is this: With five weeks left in the regular season, all seven members of the West Division have a chance to advance to the Big Ten Championship game Dec. 6 in Indianapolis. Minnesota and Nebraska are 3-1 with the Hawkeyes and Wisconsin ½ game behind at 2-1. Northwestern is a game back.
"All goals are pretty much still intact from the start of the season. It hasn't gone the way we planned, but it never does," UI senior running back Mark Weisman said. "You have to go through the ups and downs of a game and season and you have to bounce back. We had a good bye week, now it's time to move on to Northwestern."
Both Iowa and Northwestern are coming off loses prior to the bye. When the Hawkeyes slipped at Maryland, 38-31, on Oct. 18, Northwestern lost at home to Nebraska, 38-17. In an interesting scheduling quirk, Maryland, Northwestern, Minnesota, and Illinois all have a week off before playing Iowa.
"It's always an exciting game," UI senior strong safety Johnny Lowdermilk said of the Iowa-Northwestern series.
"They always seem to come down to the last couple drives," Weisman said.
In the last decade, a double-digit advantage by one team at the end of the game has happened four times. The standard has been 28-27, 22-17, 21-17, or 17-10, which occurred in 2009 and last season in overtime.
"We're trying to go out and get the sixth win," Alston said. "We're focusing on the game plan, trusting our coaches to put us in the right position to make plays, and get better every week."
In 2013, the Hawkeyes won three of four games in November. For Alston, Lowdermilk, and Weisman, there is one month of regular-season college football remaining. This season, Weisman enters the final five games with 113 carries under his belt. At this point last season, he had 137.
"I don't think I have ever felt this good this late into a season. It has been nice," Weisman said. "I try to value every carry like it's my last whether it's this year, last year, the year before. I'm trying to make the last five games special."
Lowdermilk said the Hawkeyes returned to "good, tough, Iowa football" since last taking the field 11 days ago.
"This is a big month for every football team," he said. "Whoever practices, competes, and plays the best on Saturday ultimately will win the game."
Tickets remain on sale at the UI Athletics Ticket Office in Carver-Hawkeye Arena, by phone (800-IA-HAWKS), or online at hawkeyesports.com. Tickets are $65 for adults and there is a youth ticket price of $25.
Kickoff is scheduled for 11:01 a.m. (CT) from Kinnick Stadium. The game will be televised by BTN.