Box Score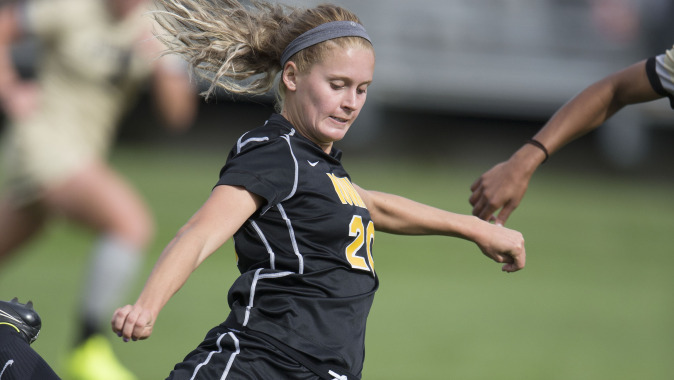 Oct. 31, 2014
LINCOLN, Neb. — The University of Iowa women's soccer team dropped its final regular season match of the season against Nebraska, 2-1, on Friday afternoon at the Nebraska Soccer Field in Lincoln. The loss drops Iowa's record to 12-6-1 overall and 7-5-1 in conference play.
"Today is a tough loss for our team," said UI head coach Dave DiIanni. "We have accomplished so many great things this year during the regular season, but not being able to finish it off with a win over Nebraska is tough to swallow for us. We played well for long periods of time, but like our other losses this year, our effort and focus waned in and out too often and we were punished for that by a hard working Nebraska team."
For the third consecutive game the Hawkeyes struck first and early. Less than six minutes into the contest, senior Cloe Lacasse netted her 11th goal of the season and her fourth in as many games to give Iowa the 1-0 advantage.
Iowa dominated both offensively and defensively in the first 20 minutes, firing off three shots while limiting Nebraska to zero. However, the Huskers went on to out-shoot the Hawkeyes, 5-2, during the remainder of the first half. Nebraska's Caroline Flynn scored her fourth goal of the season in the 35th-minute to send the game into halftime all knotted up.
Nebraska would score again in the 76th-minute from Caroline Gray, giving the Huskers a 2-1 lead. The Huskers would hold on to win and collect their fourth Big Ten conference victory.
The Hawkeyes were out-shot by the Huskers, 15-8, including an 8-3 margin in the second half. Junior Hannah Clark made five saves in the defeat.
"The great part for our kids is that the season continues next Wednesday and we will be ready to play whoever the Big Ten puts in front of us," said DiIanni.
Iowa begins first round play at the Big Ten Tournament next week on Nov. 5. Game times and pairings are still to be determined. All games will be available BTN2GO with the semifinals and finals being televised live on BTN.