Box Score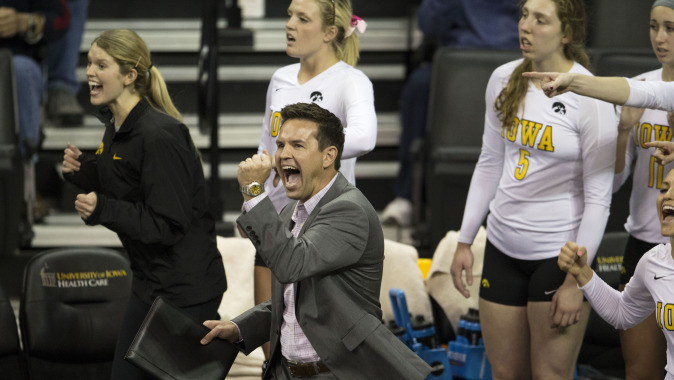 Oct. 31, 2014
COLLEGE PARK, Md. — The University of Iowa volleyball team recorded its first three-set victory in Big Ten action since 2012 over Maryland (9-13, 2-9) on Friday night. The Hawkeyes improved to 10-12 overall and 2-9 in conference play after the win.
Iowa matched its conference total from 2013 after just 11 Big Ten contests with its second win, which also marked head coach Bond Shymanksy's 300th career victory.
"It was a great 3-0 road win for us in Big Ten play," Shymansky said. "It's really tough to accomplish and our group worked really hard for it. We were gritty and gutty tonight. We had a lot of fight, a lot of courage, and we never relented in what we were doing offensively or defensively. I liked the leadership we got from a lot of different people tonight."
Taylin Alm led the Hawkeye offense and matched her career-high with nine kills, while Jess Janota and Julianne Blomberg contributed seven kills apiece. Blomberg's seven kills matches her career-high for the second-straight match.
The Hawkeyes and Terrapins grappled through 10 ties and five lead changes for set one before Iowa recorded the 25-21 win. Iowa's right side attack allowed the Hawkeyes to break through, as Janota and Alm recorded five and four kills, respectively. Middles Alessandra Dietz (1.000) and Mikaela Gunderson (.500) also operated at high efficiency with three kills apiece in the opening set.
Both teams continued to battle for set two. After enduring 10 more ties and three lead changes, the Hawkeyes secured a 25-17 victory for a two-set advantage in the match. Iowa used a five-point run to close out the set, fueled by a Lauren Brobst and Dietz combination block, an Alm kill and a Blomberg service ace.
The Hawkeyes played to a 25-20 win in set three to secure the 3-0 sweep of Maryland and win the first meeting against the Terrapins in school history.
Kaylee Smith dished out a team-most 19 assists, followed by Alyssa Klostermann who posted 13 in the match. Blomberg and Gunderson led the Hawkeye defense with 12 digs and five blocks, respectively.
Iowa continues weekend action at Rutgers tomorrow at 6 p.m. (CT).
| | | | |
| --- | --- | --- | --- |
| Iowa at Maryland | 1st | 2nd | 3rd |
| Iowa (10-12, 2-9) | 25 | 25 | 25 |
| Maryland (9-13, 2-9) | 21 | 17 | 20 |
Statistical Leaders
Kills: Alm (IOWA) 9 | Crutcher (MD) 10
Assists: Smith (IOWA) 19 | Oggioni (MD) 13
Digs: Blomberg (IOWA) 12 | Dion (MD) 15
Blocks: Gunderson (IOWA) 5 | Murray/Fraik/MacGregor/St. Hill (MD) 4