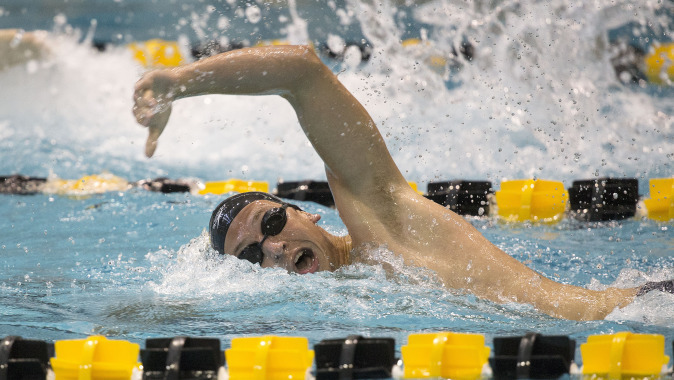 Oct. 31, 2014
MINNEAPOLIS — The University of Iowa men's swimming and diving team dropped a 163-137 decision to Minnesota on Friday night in a Big Ten dual at the University Aquatic Center in Minneapolis. The Hawkeyes (1-2) recorded eight first-place finishes to go along with three runner-up spots.
"I'm really proud of our team tonight," said UI head coach Marc Long. "It's disappointing to lose but we stayed in there, we battled, and we competed. Our team was hungry tonight, we performed well, and we're going to bounce back from this and keep improving. We've got the type of energy you want in the team and it's exactly what we expect from them."
Iowa got off to an exciting start in the opening race, swimming to a victory in the 200 medley relay. The quartet of Grant Betulius, Roman Trussov, Jerzy Twarowski, and Jackson Allen swam to a season-best time of 1:29.46.
Betulius kept the momentum rolling for the Hawkeyes with a top finish in the 100 backstroke posting a season-best time of 48.18.
Twarowski had a strong night claiming three top finishes. The Krakow, Poland, native swam to first-place finishes and season-best times in the 200 medley relay (1:29.46), 200 butterfly (1:47.55), and 100 butterfly (48.65)
Trussov also had a trio of first-place finishes posting top times in the 200 medley relay (1:29.46) 100 breaststroke (55.56), and a season-best time in the 200 breaststroke (2:00.81). The Ust-Kamenogorsk, Kazakhstan, native placed third as a member of the 400 freestyle relay quartet alongside Brandon Farnum, Charles Holliday, and RJ Hemmingson. The quartet posted a time of 3:05.14.
In the 100 free, Jackson Allen swam to a first-place finish with a season-best time of 45.50. The Monona, Wisconsin, native also posted second-place finishes in the 50 free (20.61) and as a member of the 400 free alongside David Ernstsson, Jackson Halsmer, and Betulius. The quartet posted a time of 3:01.40.
In the diving well, Brandis Heffner and Addison Boschult led the Hawkeyes. Boschult dove to a fourth-place finish posting a career-best 367.13. Heffner finished fifth with a career-best score of 339.00. On the 1-meter, Heffner again bested his personal score diving to a third-place finish with a score of 325.88. Boschult finished sixth diving to a score of 302.93.
"I'm very happy with the way our men competed tonight, they did a really good job," said UI diving coach Todd Waikel. "It wasn't just about achieving personal bests tonight; they stayed the course and improved on what we work on in practice. We fought all night, kept battling, and stepped up when we needed to. We're headed in the right direction and I'm looking forward to what lies ahead for us."
The Hawkeyes return to action Dec. 5-7, hosting the Hawkeye Invitational at the Campus Recreation and Wellness Center Pool, in Iowa City, Iowa.