Nov. 2, 2014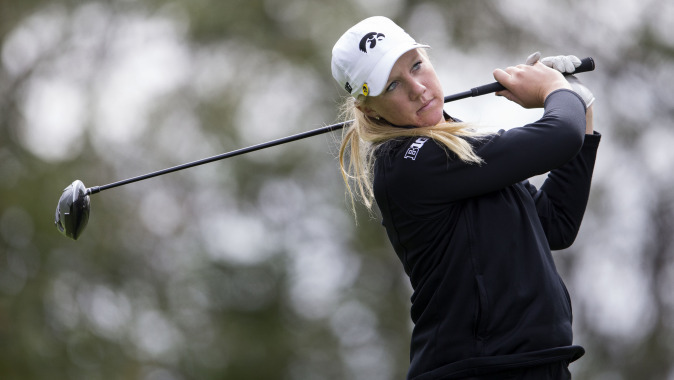 ?
Day One Results

BOERNE, Texas — The University of Iowa women's golf team finished the first day of the Jim West Invitational on Sunday at Tapatio Springs Golf Course, carding a first round 320 (+32). The Hawkeyes sit 11th in the field of 12 teams following 18 holes, with two rounds to play on Monday and Tuesday. Texas A&M (+9) leads the event.
Jessie Sindlinger registered the best finish for the Hawkeyes after day one with an 18-hole 74 (+2), leaving her tied for sixth. The sophomore was consistent throughout the first round making par on 14 holes, while also birdieing hole 10.
Junior Amy Ihm currently is tied for 45th, after a first round 80 (+8). Freshman Jessica Ip managed a first round 82 (+10), and is tied for 53rd.
Coming off a career best performance in Starkville at the Old Waverly Bulldog Invitational, Elisa Suarez registered a round one 84 (+12), leaving her tied for 61st.
Rounding out the action for Iowa was Shelby Phillips, also carding a round one 84 (+12). She finishes the day tied with her teammate for 61st.
Iowa continues action on Monday with the second round.