Nov. 3, 2014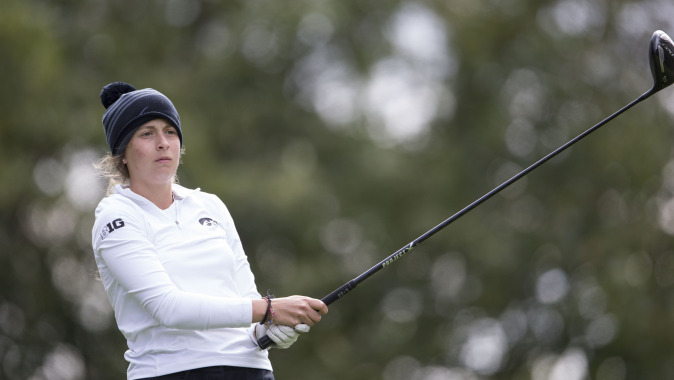 ?
Final Results

BOERNE, Texas — The University of Iowa women's golf team concluded its fall season at the Jim West Invitational on Monday, finishing 12th overall.
The Hawkeyes were originally scheduled to play round two on Monday and round three on Tuesday at the Jim West Invitational, but due to inclement weather forecasts in Boerne, Texas for Tuesday, teams completed rounds two and three. After posting a first-round 320 (+32) on Sunday, the Hawkeyes were able to improve during round two with a 311 (+23) before ending the day with an improved round-three score of 303 (+15). Iowa tallied a 54-hole score total 934 (+70). Texas A&M won the tournament with a 886 (+22), followed by Houston in second 892 (+28) and Texas Tech in third 893 (+29).
Elisa Suarez carded the best finish of the weekend for the Hawkeyes. The freshman improved each round carding a three round 231, posting rounds of 84, 77, and 70. Suarez birdied five of the final 18 holes in round three, finishing the weekend tied for 26th.
"Elisa had a great final round today. She had five birdies in the final round and played very solid golf today," said UI head coach Megan Menzel.
Jessie Sindlinger was able to finish just behind her teammate, tied for 33rd. The sophomore carded a second round 80 (+8) before ending with a third-round 79 (+7), tallying a total 233 (+17).
Junior Amy Ihm registered a total 234 (+18), posting rounds of 80, 79 and 75. Ihm had her best round in the third, and finished tied for 40th, one stroke behind Sindlinger.
Shelby Phillips ended the weekend with a total 240 (+24), with rounds of 84, 77 and 79. Rounding out the Hawkeyes squad was freshman Jessica Ip, who carded a total 244 (+28), posting rounds of 82, 78 and 84.
"The fall season was a frustrating one at times. We feel as though we have made some strides, but we have to be mentally stronger. We have to get better at finishing rounds. If we can do that we have a team that can compete at a high level this spring," added Menzel.
Iowa will have an extended break before it returns to action Feb.15-17, traveling to Rio Grande, Puerto Rico to take part in the Lady Puerto Rico Classic