Nov. 3, 2014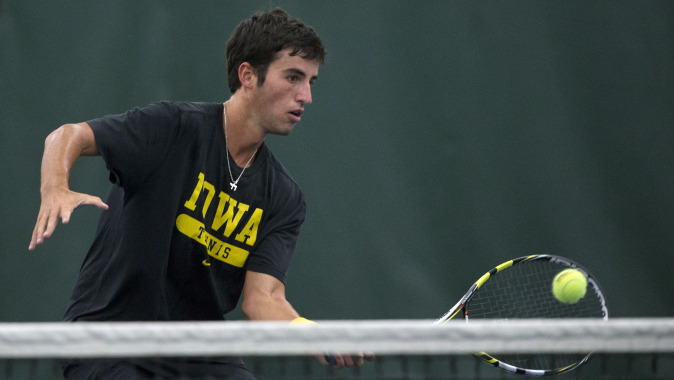 MINNEAPOLIS, Minn. — The University of Iowa men's tennis squad wrapped up singles action at the Big Ten Indoor Singles/Doubles Championships Monday at Baseline Tennis Center. The lone Hawkeye still in the competition was freshman Josh Silverstein.
With his performance thus far, he recorded three straight victories over Michael Dube of Michigan State, Ruben Weber of Minnesota and Michigan State's John Patrick Mullane, who was seeded fourth in the tournament. Silverstein earned a berth in the Big Ten Indoor Championships Main Draw Semifinals. He faced a tough matchup with Felix Corwin of Minnesota, the second seed in the draw. Silverstein was looking to cement a place in the finals with a win over Corwin. However, it was Corwin who earned the victory, defeating the Hawkeye freshman (6-4, 6-3). Silverstein had a great performance in the tournament.
"Josh had a great tournament he just ran into a tough opponent today who played the big points better. It was a great tournament to end our fall season. This will make the team even more motivated to push each other over the next few months as we prepare for the spring season," said interim head coach Ross Wilson.
Monday marks the end of the Hawkeyes men's tennis squad's fall season.
BIG TEN SINGLES/DOUBLES CHAMPIONSHIPS
Monday's results
Singles Main Draw Semifinals
Felix Corwin (MINN) def. Josh Silverstein (UI): 6-4, 6-3