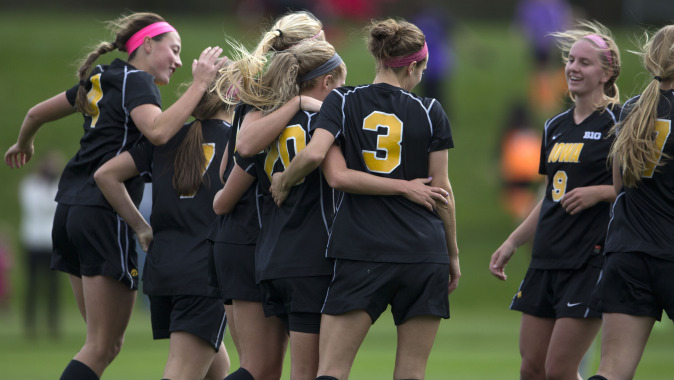 Nov. 4, 2014
2014 B1G Tournament Bracket

Editor's Note: The following first appeared in the University of Iowa's Hawk Talk Daily, an e-newsletter that offers a daily look at the Iowa Hawkeyes, delivered free each morning to thousands of fans of the Hawkeyes worldwide. To receive daily news from the Iowa Hawkeyes, sign up HERE.
By JAMES ALLAN
hawkeyesports.com
IOWA CITY, Iowa — The time is now for the University of Iowa soccer team.
The Hawkeyes head to West Lafayette, Indiana, for the 2014 Big Ten Tournament as the No. 5 seed, where they will square off against fourth-seeded Rutgers in the tournament's opening game at 9:30 a.m. (CT) Wednesday at the Boilermaker Soccer Complex.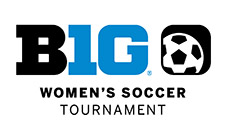 "We know this is do or die," said senior Cloe Lacasse. "If we lose, that's the end of our season. Everyone wants to extend our season with this squad because it could be the last time we play with each other."
Iowa finished the regular season with a 12-6-1 overall and 7-5-1 Big Ten record to tie for fifth place — the program's third top-five showing since 2011. Rutgers finished fourth in the standings with an 8-4-1 Big Ten record and was 12-4-1 overall. The Scarlet Knights beat Iowa, 1-0, on Sept. 28.
"We like the matchup with Rutgers," said UI head coach Dave DiIanni. "They are solid all over the field and are deep, but the first time we played them we were minus two starters, and we're also a different team quality of play wise."
For the Hawkeyes to make a Big Ten run, DiIanni says the key will be having everyone play their roles for a full 90 minutes, capitalizing on scoring opportunities, and not surrendering uncharacteristic goals.
"If we can do that, we're a good team," said DiIanni. "I wouldn't want to play us. We're good defensively, have quick strike ability in the attack, and we're in a good place. We're also as healthy as we're going to be."
The Hawkeyes have postseason experience to fall back on after making a run to the title game at the Big Ten Tournament last season. Iowa downed No. 7 Michigan and No. 20 Penn State by 1-0 counts in the quarterfinals and semifinals before falling 1-0 to No. 18 Nebraska in the championship game.
"The experience helps because we've done it and done it with a lot of our current team," said senior Melanie Pickert. "We know what to expect."
Lacasse says the 2013 run was special, and it's something the team wants to experience again.
"We got a good taste of what it is like to advance in the tournament," said Lacasse. "It was such a great feeling to get that far, and we want to get there again."
A second Big Ten Tournament run won't happen without winning the quarterfinal matchup against Rutgers. That has Pickert emphasizing the present.
"We need to make sure we are completely focused on this game, and we need to close off other distractions," said Pickert. "We can't look ahead; we can't even think about anything else. We have to get through one game at a time and not think about the rest of the tournament.
"We need to be 100 percent ready to go (against Rutgers), and then worry about the next game. Otherwise we may not get that chance."
Wednesday's game will be streamed live on BTN Plus on BTN2Go.