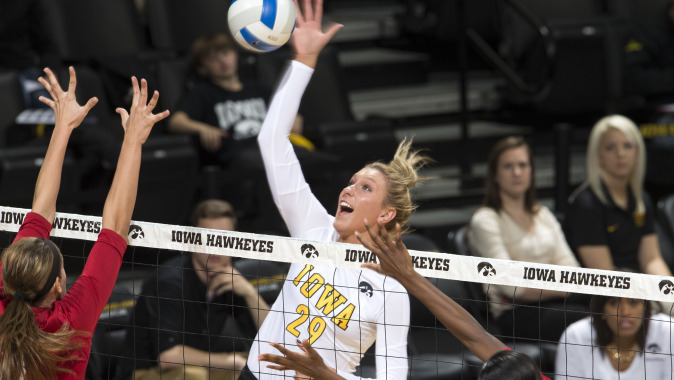 Nov. 7, 2014
By JIL PRICE
Editor's Note: The following first appeared in the University of Iowa's Hawk Talk Daily, an e-newsletter that offers a daily look at the Iowa Hawkeyes, delivered free each morning to thousands of fans of the Hawkeyes worldwide.
IOWA CITY, Iowa — The University of Iowa volleyball team has won three-straight matches in Big Ten play for the first time since 1994, recorded a program-most four conference victories since 2009, and doubled its conference win total from 2013 — all under the leadership of first-year head coach Bond Shymansky.
Following the team's third-straight victory over Indiana in five sets on Wednesday, Shymansky could not contain his excitement.
"One in a row feels great in the Big Ten, and anytime you're winning, you're doing something right," Shymansky said. "For us to get three in a row right now and keep climbing in conference standings is exciting for our group. I can't say how proud I am of how they're fighting."
Shymansky sees his team coming into its own, and establishing a competitive character that has been an integral component of its success.
"Competitive character is what's helping us win tight moments in tight matches," Shymansky said. "I tease our team that we're like the Bad News Bears, we're not necessarily the tallest, highest, fastest, or strongest, but as a team, we're doing the best in those moments, and that's all you need. That competitive character allows them to dig deep, play with confidence, play smooth, and not be nervous."
Shymansky says the freshmen have elevated and are playing like starters. They have been a major contributing factor in the team's success.
"I'm going to quit calling them freshman because they're starters," Shymansky said. "They're young players, but they are starters and are playing like starters for us."
Freshman right-side hitters Jess Janota and Taylin Alm have been on fire in Iowa's three-match win streak. Alm reached double digits for the first time in her career with 11 kills at Rutgers and kept up production with 10 kills in Iowa's win over Indiana.
Shymansky was excited with Janota's ability on the court against Indiana as well.
"I loved the slide swing that Jess Janota took," Shymansky said. "It was for game point against Indiana, and she crushed it down the line. It takes a lot of guts to do that, especially for a freshman."
Freshmen Kaylee Smith and Michelle Fugarino also have important roles in the Hawkeye lineup. Smith — a setter in the team's 6-2 offense — has led Iowa in assists in 10-straight matches. Fugarino, who anchors the back line as the libero, has led the team in digs in 18-of-24 contests this year, reaching double digits in 16.
The Hawkeyes — who have seven matches remaining in the 2014 regular season — resume action Saturday, hosting No. 12 Purdue. Iowa's last win over the Boilermakers (3-0) occurred in 2012, when Purdue was ranked 12th nationally.
"We have so much volleyball in front of us, but our group is striding and they're not getting rattled in tight moments," Shymansky said.