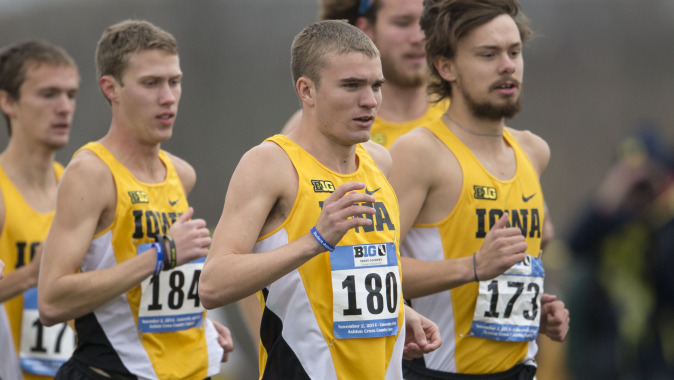 Nov. 11, 2014
Iowa Notebook

THIS WEEK
The University of Iowa cross country team heads to Peoria, Illinois, to compete at the NCAA Midwest Regional on Friday. The women's 6,000-meter race begins at 12 p.m. (CT) and the men's 10,000-meter race follows at 1 p.m. (CT) at the Newman Golf Course.
IN THE RANKINGS
The men's team is ranked eighth in the most recent USTFCCCA Regional rankings, released Nov. 3. The Hawkeyes were slotted just behind Big Ten opponents Illinois (6) and Minnesota (7).
ABOUT THE NCAA REGIONAL
This will be the sixth time Bradley University hosts an NCAA Cross Country Regional Championship, and the fourth time the event takes place at the Newman Golf Course. Thirty teams from twelve conferences are represented at the 2014 Midwest Regional. The top two teams and the next four individuals — not on qualifying teams — earn a spot to compete at the NCAA Championship on Nov. 22 in Terre Haute, Indiana. Additional teams and individuals are chosen through an at-large selection process following the regional competition.
NATIONAL CHALLENGERS
The Hawkeye women face two teams ranked inside the USTFCCCA Top 30 on Nov. 4. Those teams include Iowa State (5) and Minnesota (20). Oklahoma State and Tulsa also received votes in the poll. The Hawkeye men will race against three of the nation's top 30 teams. They include Oklahoma State (4), Tulsa (23), and Oklahoma (26). Iowa State also received votes.
LEWIS NAMED ALL-BIG TEN
Senior Kevin Lewis was named first team All-Big Ten following a sixth place finish at the 2014 Big Ten Championships on Nov. 2 at the Ashton Cross Country Course. He is Iowa's first All-Big Ten cross country performer since Jeff Thode in 2010, and the first to earn first-team honors since Micah VanDenend's third place finish in 2006. Lewis completed the 8,000-meter course with a personal best performance of 23:52, a time that ranks eighth all-time in school history.
ROLLING ON ASHTON
Fifteen Hawkeyes recorded career-best performances at the 2014 conference championships. Senior Ben Witt finished second for the Iowa men, clocking a personal best time of 24:24 to place 34th overall. On the women's side, sophomore Katie Adams (50) posted a personal best time of 21:21 to lead Iowa to an 11th place finish. Her time was approximately a 40-second improvement from last year's Regional meet.
NCAA MIDWEST REGIONAL HISTORY
Lewis was an all-region honoree following a 15th place finish at the 2013 NCAA Midwest Regional. He joins the list that includes VanDenend (2002, 2005-06), Thode (2009-11), and former teammate Nick Holmes (2011). Mareike Schrulle is Iowa's last female runner to advance to the NCAA Championship. She placed seventh in the 6,000-meters with a collegiate-best 19:43 at the 2012 NCAA Championships. That time ranks second all-time at Iowa. The top 25 finishers earn all-region honors.