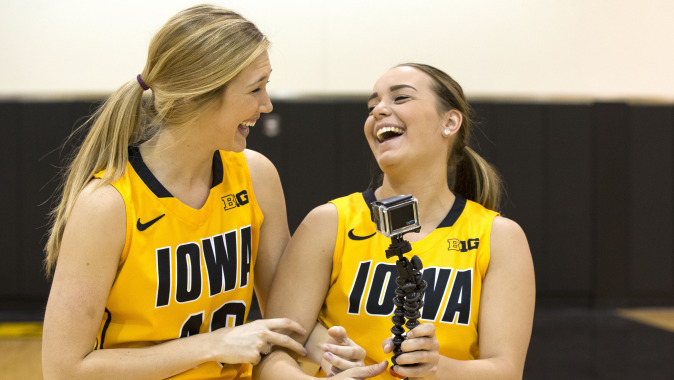 Nov. 17, 2014
Q: What is it like working with coach Bluder and the Iowa coaching staff?
A: It's awesome. They care about all of us and it's a family atmosphere.
Q: What was the key factor in your recruitment that led you to Iowa City and the Hawkeye basketball program?
A: It was really the team and the coaches. A lot of the schools I was looking at had my major, had really good academics, and nice classes. No matter what, I was going to get a good education. It was really the team aspect that I saw. They all loved each other and hangout with each other all the time. The team and the coaches were my deciding factor.
Q: What facet of your game has improved the most since last spring?
A: My defense. I've gotten a lot better at knowing how to stop drives and how to close out and overall I've improved my fundamentals.
Q: What are the team goals for the 2014-2015 season?
A: To win the Big Ten Championship, get to the NCAA Tournament, and get as far as we can and have a good time while cherishing every moment we have together.
Q: Is there any significance to the jersey number you wear?
A: When I was coming in I wanted to be No. 23 and Theirra (Taylor) had that number. So I decided to split up the number and go with No. 2 or 3. Ally (Disterhoft) was No. 2 and Claire (Till) was No. 3 so I just decided to switch it up and go with No. 1.
Q: What did you do with your free time over the summer?
A: I went home with my free time. I have a new baby nephew, and he was born this summer, so I went home to see him a lot. I also have a niece who is almost two now so I was able to go home, spend as much time with my family and watch them grow as much as I could.
Q: How is your academic path coming along?
A: Good, it's going really well. I picked up a human relations minor recently and I'm excited to start. I have a 3.2 grade point average so things are going well.
Q: Who is the most influential person in your life?
A: My sister Marissa; she has really showed me that even though we come from a small town in Nebraska we can do anything we set our minds to. She played ball at North Carolina State and is playing overseas now. It showed me that anything you set your mind to you can accomplish.
Q: What was your first basketball memory as a child?
A: I grew up on a farm, so probably playing on the court we had on a cement slab. We'd play horse with my dad or just kind of hang out and play each other. Those we're definitely my best memories.
Q: What is your favorite kind of candy?
A: I love Kit Kats.
Q: What did you want to be as a child growing up?
A: Originally, I wanted to be a vet. After shadowing my uncle when I was 10 years old, I saw animal guts and I couldn't do it after that. Then I wanted to be a teacher and I was always playing teacher around the house.
Q: Who did you play teacher with?
A: My sisters or my stuffed animals, whichever one was more available. The stuffed animals were always there though.
Q: One word that describes you?
A: Goofy; I don't like to take things too seriously. Life is too short to take things too seriously. I kind of like to make a joke out of most things in the right setting.
Q: What is the last movie you saw in theaters?
A: The Judge, and I cried. It's definitely a tear-jerker.
Q: Do you have any hidden talents that Hawkeye fans don't already know about?
A: I don't think so. I can't sing and I certainly can't dance, although I like to do both.
Q: When do you sing and dance most?
A: Around the team; they definitely feed into my personality, in the locker room and in the gym.
Q: Who chooses the music in the locker room?
A: It's usually either Claire or I. We listen to Beyonce a lot. When we're getting done with practice it's either country music or Goo Goo Dolls. We definitely have a wide variety on this team. When we're lifting it will be Lil Wayne or Drake and artists like that.
Q: What is your favorite place to eat in Iowa City and what do you order?
A: It depends what mood I'm in. I love Monica's. I really like the lobster fettuccine… it's so good. Also, Wig and Pen, obviously… the pineapple and Canadian bacon pizza is to die for.
Q: You spend most of your free time where?
A: Hanging out with the team at my apartment or one of their houses, or shopping.
Q: What is your favorite home-cooked meal when you go home?
A: My mom made duck and dumplings the last time I went home and it was pretty good.
Q: What is you greatest memory as a Hawkeye?
A: Beating Penn State on Penn State's court. They were ranked No. 9 at the time and the atmosphere in the locker room afterwards was awesome. It was a great feeling.