Box Score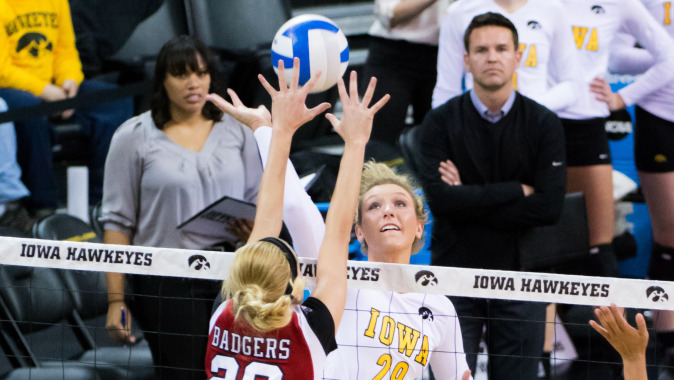 Nov. 19, 2014
COLUMBUS, Ohio — The University of Iowa volleyball team fell in straight sets to No. 20 Ohio State (19-10, 10-7) on the road on Wednesday night. Following the loss, the Hawkeyes fall to 13-15 overall and 5-12 in Big Ten play.
"Here we are against another ranked opponent on the road, and we needed to dig deep and find a lot of passion," head coach Bond Shymansky said. "We played okay in the first set, but we had a lull when they were able to separate.
"We played like we can play in the second set and did what we were capable of doing. I liked the contribution we were getting out of certain players. But then in the third set we came out flat. We have to believe we have the capability to win, and that's what will drive our passion to win."
The Hawkeyes used a four-point drive fueled by kills from Mikeala Gunderson, Jess Janota and Brobst to pull ahead of the Buckeyes in set one 5-3. Ohio State came back, using a six-point run to establish a 14-9 lead and never looked back en route to its 25-20 set one win. Right side hitters Janota and Alm led the Hawkeye offense with three kills apiece in the opening stretch.
Iowa and Ohio State battled it out for set two, enduring seven tie scores and two lead changes. After trailing by as much as five early, the Hawkeyes fought back to establish a 21-18 advantage. Alex Lovell led the comeback charge, tallying five kills and a service ace. Four ties occurred from there, before the Buckeyes used two kills to record the 28-26 set two win.
The Buckeyes started the third set in dominant fashion, outscoring the Hawkeyes 7-1 to seize the momentum. Ohio State never surrendered its lead from there, using a .333 attack percentage to post its 25-19 win and the 3-0 sweep of Iowa.
Concord, Ohio, native Janota and Lovell led the Hawkeye offense with seven kills each in the match. Kaylee Smith and Alyssa Klostermann both dished out 15 assists. Michelle Fugarino and Alessandra Dietz paced the defense with 11 digs and three blocks, respectively.
Iowa concludes its road trip with a match at Northwestern at 7 p.m. (CT) Saturday.
| | | | |
| --- | --- | --- | --- |
| Iowa at #20 Ohio State | 1st | 2nd | 3rd |
| Iowa (13-15, 5-12) | 20 | 26 | 19 |
| Ohio State (19-10, 10-7) | 25 | 28 | 25 |
Statistical Leaders
Kills: Janota/Lovell (IOWA) 7 | Campbell (OSU) 12
Assists: Klostermann/Smith (IOWA) 15 | Sherwin (OSU) 47
Digs: Fugarino (IOWA) 11 | Leon (OSU) 10
Blocks: Dietz (IOWA) 3 | Sandbothe (OSU) 4