Nov. 21, 2014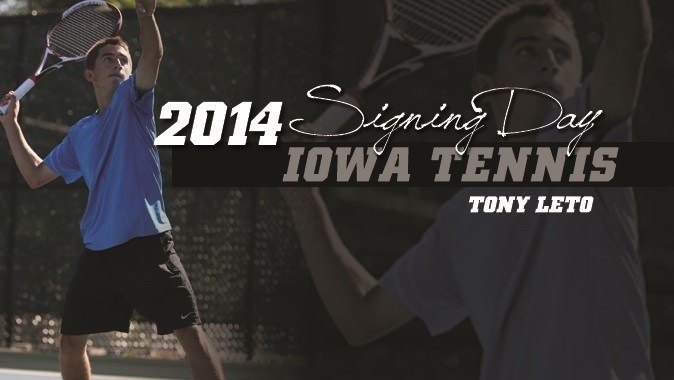 IOWA CITY, Iowa — Tony Leto (Downers Grove, Illinois) has signed a National Letter of Intent with the University of Iowa men's tennis program, interim head coach Ross Wilson announced Friday.
Leto, who attends Downers Grove South High School, is currently ranked No.114 nationally as a four-star recruit. He was a 2014 Midwest Open finalist and a National Open finalist.
"Iowa interested me because I wanted to follow my dream of playing tennis at a Big Ten school," said Leto. "During my unofficial visit, I witnessed the best college match I have ever been to when Iowa upset Minnesota. The entire crowd was going nuts; I felt a great vibe and I knew I wanted to be a part of that someday."
"I believe Ross and Ty Schaub are two of the best coaches in the NCAA. Under these coaches, Iowa can become one of the best schools in the Big Ten. Choosing to play tennis at Iowa was a great choice, and I can't be more excited to spend my next four years as a Hawkeye." added Leto.
"Tony has an intense passion for tennis and is a very motivated person," said Wilson. "He has been successful throughout his junior career and has tremendous upside."
The Hawkeyes open the 2015 season Jan. 25, hosting Western Michigan and Western Illinois at the HTRC.