Box Score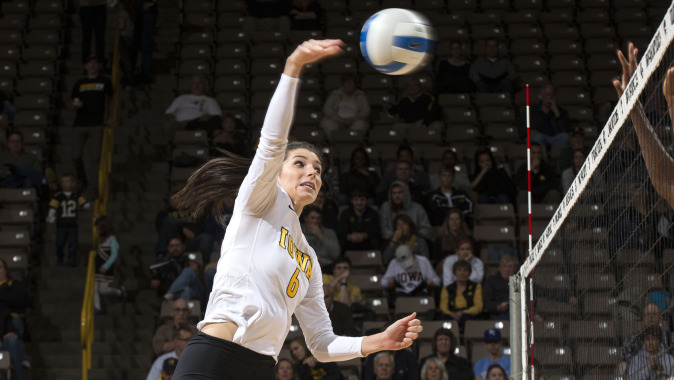 Nov. 22, 2014
EVANSTON, Ill. — The University of Iowa dropped to 13-16 overall and 5-13 in Big Ten play, following its 3-0 loss at Northwestern (16-13, 6-12) Saturday night.
"We gave our team fair warning all week that Northwestern is going to want to beat us," head coach Bond Shymansky said. "We beat them in Carver-Hawkeye Arena earlier this year, and we knew they were going to do everything they could to get a win.
"Our group just did not respond. I could see it on them early, and that's on me as a coach. I have to get this group dialed in to the fact that we are no longer the underdog when we step onto the court in the Big Ten."
After falling behind by seven points in the first set, the Hawkeyes rallied back within one of the Wildcats 23-22. Alessandra Dietz led the charge for the Hawkeyes hitting .750 with three kills, a service ace and three block assists, while Lauren Brobst contributed three kills, a block assist and a solo stuff. Northwestern was able to survive the drive and win the opening set 25-22.
Iowa and Northwestern battled through six early ties before the Wildcats came alive outscoring the Hawkeyes 9-3 to take control. Northwestern never surrendered its lead, hitting .583 en route to its 25-14 win. Dietz, Mikaela Gunderson and Brobst posted two kills each to lead the Hawkeyes offensively in the set.
The teams grappled through six ties in the third set, the latest of which occurred at 18-18, but Northwestern came out on top outscoring Iowa 7-3 to secure the 25-21 win and the 3-0 sweep. Jess Janota tallied five of her nine total kills in the set to pace the Hawkeye offense in the final set.
Iowa's middle attack led the Hawkeyes in efficiency with Dietz and Gunderson hitting .375 and .357 in the match, while Janota's nine kills was a team-high. Kaylee Smith dished out a team-high 20 assists. Julianne Blomberg and Michelle Fugarino recorded eight digs each to lead the back line.
Iowa closes the regular season with two home contests next week. The Hawkeyes will host Maryland at 4 p.m. (CT) Wednesday and Michigan State at 7:30 p.m. Friday. Friday is Senior Night for Dietz, Erin Leppek, Alex Lovell, Kari Mueller and Emily Yanny. They will be recognized prior to the match.
| | | | |
| --- | --- | --- | --- |
| Iowa at Northwestern | 1st | 2nd | 3rd |
| Iowa (13-16, 5-13) | 22 | 14 | 21 |
| Northwestern (16-13, 6-12) | 25 | 25 | 25 |
Statistical Leaders
Kills: Janota (IOWA) 9 | Dutchman/Paffen (NU) 10
Assists: Smith (IOWA) 20 | Tashima/Ryan (NU) 21
Digs: Blomberg/Fugarino (IOWA) 8 | Niedospial (NU) 15
Blocks: Dietz (IOWA) 3 | Dutchman (NU) 6