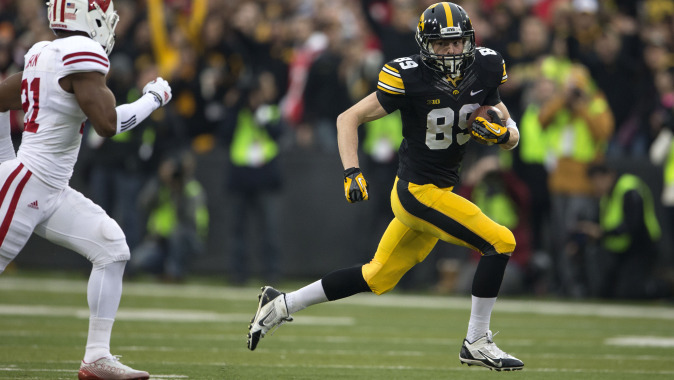 Nov. 24, 2014
Editor's Note: The following first appeared in the University of Iowa's Hawk Talk Daily, an e-newsletter that offers a daily look at the Iowa Hawkeyes, delivered free each morning to thousands of fans of the Hawkeyes worldwide. To receive daily news from the Iowa Hawkeyes, sign up HERE.
By DARREN MILLER
hawkeyesports.com
IOWA CITY, Iowa — In a season opening win against Northern Iowa, University of Iowa quarterback Jake Rudock completed passes to 13 receivers while seven Hawkeyes had rushing attempts.
What UI head football coach Kirk Ferentz said Nov. 18 at his weekly news conference held as true in August as it does in November.
"We're a better team when the ball gets spread around a little bit and we get the tight ends involved and the receivers get opportunities to catch the football."
It was no exception Nov. 22 against No. 14 Wisconsin when eight Iowa players hauled in a combined 20 passes.
"It helps when everybody is making plays," said junior Tevaun Smith, who caught four passes for 78 yards and a long of 32. "I had a couple catches, Kevonte (Martin-Manley) and Matt VandeBerg had a few key catches, too. The more we can spread the ball around it helps our offense."
Balance has always been paramount to the Hawkeyes' success. On Saturday they threw 30 passes, ran 28 times, and outgained Wisconsin by seven yards. The Badgers entered the game leading the nation in total defense (244 yards per game) and third in scoring defense (15.3 points per game). Iowa picked up 412 yards — 271 in the second half — and scored 24 points.
Spreading the wealth created big gains. Rudock had a long run of 21 and junior Jordan Canzeri had a long run of 16. Of the 311 passing yards, 33 came on one play to junior tight end Jake Duzey and Smith hauled in a 32-yarder. Sophomore Matt VandeBerg caught a pass for 28 yards, Canzeri had one for 27, and Martin-Manley had a 20-yard reception.
"Jake spreads the ball out to everybody. The great thing about him is he doesn't lock in on one guy, he throws to the open man," said Duzey, who finished with four catches for 72 yards and a 9-yard touchdown.
One of the most impressive pass-and-catches of the game involved Rudock and Martin-Manley in the third quarter. On second-and-2 from the Wisconsin 20, Rudock audibled to a timing route that Martin-Manley corralled in the end zone.
"Jake checked to it," Martin-Manley said. "It was a look we had been working on; he called it and it was routine, just like practice."
Nothing says balance and sharing the ball like Iowa's 30-14 win at Illinois on Nov. 15. Seven Hawkeyes ran the ball, seven caught the ball, and Iowa rolled to a season-high 587 yards. That continued at home against Wisconsin.
Martin-Manley leads the Hawkeyes with 43 receptions this season. Four players have 30 or more catches: Martin-Manley, Smith (37 for a team-high 488 yards), Duzey (34), and senior running back Damon Bullock (32). Nineteen Hawkeyes have at least one reception; 11 have at least one rushing attempt, led by senior Mark Weisman with 720 yards on 182 attempts. Eight Hawkeyes have 14 or more carries.
"I'm proud of the strides we have made," Martin-Manley said of the UI receivers. "When our number is called we are confident we can make plays. We take pride in blocking as well. We have some young guys sprinkled in there making big plays. I'm proud of our performance (against Wisconsin), but we can always do better."
Doing better is the plan for the Hawkeyes in the next four days as they prepare for the Hy-Vee Heroes Game against Nebraska. Iowa enters the Black Friday battle with a record of 7-4 overall, 4-3 in the Big Ten Conference. Nebraska is 8-3, 4-3.
Border battle trophy games are always intense and sometimes unpredictable. But you can bet the Hawkeyes will feature a balanced, yet varied, game plan.
"That will continue to be true," Ferentz said. "The more guys we can utilize, the better we can play."
Truer words were never spoken in August…or November.