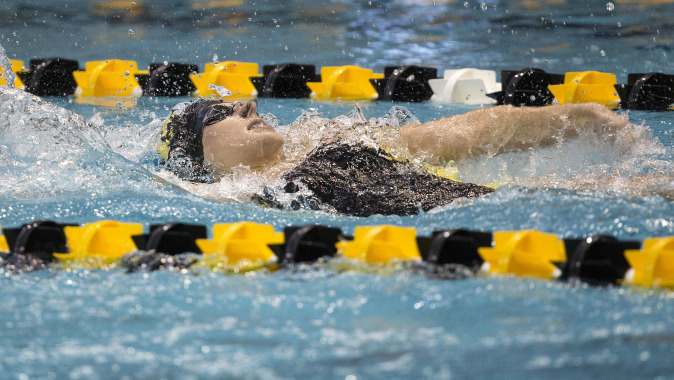 Dec. 4, 2014
Editor's Note — This story first appeared in the December edition of Hawk Talk Monthly presented by Transamerica.
By BEN SCHMITZ
hawkeyesports.com
IOWA CITY, Iowa — After a month off from competition, the University of Iowa swimming and diving team is ready to get back in the pool at the Hawkeye Invitational.
The three-day competition will take place Dec. 5-7 in the Campus Recreation and Wellness Center Natatorium.
"We've had great energy with the team over break, and we're excited for the Hawkeye Invite," said UI head coach Marc Long. "Having a meet like this at home helps. It allows us to adjust to a Big Ten and NCAA format, and it ultimately prepares the team for the end of the season."
The Hawkeyes welcome a field of eight teams to the three-day competition, and will run a championship style format with qualifying preliminary and final sessions.
UI senior Hannah Maher knows the importance of the team's first "peak meet" of the season, and looks forward to the experience the underclassmen will gain from the event.
"It helps prepare the underclassmen for Big Tens," said Maher. "We've been telling them it's essentially a warm up for the end of the season and they can gain experience. We want to show them how we warm up, cool down, and make sure they're ready for Big Tens when the time comes."
UI junior Luke Snow will participate in his third Hawkeye Invitational. The Springfield, Illinois, native has embraced the competitive field in the past and holds high expectations for his competitors again.
"With these big teams coming in, there are a few swimmers that are going to shave all the way down," Snow said. "It's going to be the biggest meet of the year until we host Big Tens. We're getting excited, focused, and hold high expectations.
"We have a lot of guys looking to get their NCAA cuts and a good seeding for Big Tens. This is our main chance to set ourselves up as we approach the Big Ten season."
In the diving well, the Hawkeyes face a competitive field of eight teams. UI diving coach Todd Waikel relishes the challenge and holds his divers to high expectations.
"Our goal is to perform well at all of our meets regardless of how tired we are, how many exams we had that week, and all the external things that go on," said Waikel. "We want to peak perform at all of our meets and that's what we strive for.
"The Hawkeye Invitational is our first big meet with a prelims and finals setup, and we want to simulate what it will be like at the Big Tens in regard to how we warmup and prepare. This allows us to fine tune what we did or didn't like as we approach the end of the season. There's a lot going on and when you collect it, all that raises expectations for everyone."
UI senior Joelle Christy is set to compete in her fourth Hawkeye Invitational. The Springfield, Illinois, native leads the team on 1-meter and 3-meter this season. She wants to improve on the success she has found early in her senior campaign.
"We've had about a month off and have had a great training cycle to take a step back, look at our dives, and fine tune them before this meet," said Christy. "We're looking forward to getting back in the pool and showing off all the hard work that has been put in while we've prepared for the Hawkeye Invite and the Big Tens."
Preliminaries for all three days begin at 10 a.m. (CT), followed by finals at 6 p.m. on Friday and Saturday, and 4 p.m. on Sunday.