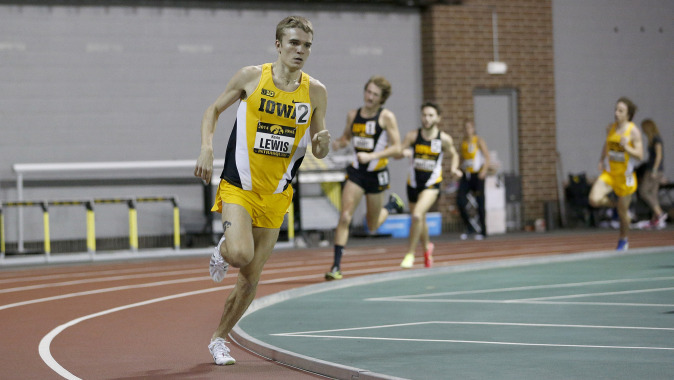 December 6, 2014
Photo Gallery

Complete Results

IOWA CITY, Iowa — The University of Iowa track and field team opened the 2014-15 indoor season Saturday with the annual Black and Gold Intrasquad at the UI Recreation Building. The Gold squad won with 80 points, while the Black squad tallied 73 points for second place.
Kevin Lewis brought the crowd to their feet in the men's mile. The senior ran a career-best performance of 4:07.19 to win the event. His time would have ranked seventh on Iowa's all-time list. Sophomore Alana Jones captured the women's mile title when she crossed the line in 5:16.18.
"It's a really good starting spot," Lewis said. "I know I'm going to be faster for our next home meet in January. It's really good to know that I can run 4:07 right now, so in five weeks from now when we have our meet I can set my sights on something like a 4:05. I'm really happy with that race."
Will Teubel started his indoor season on a high note, taking the men's 600-meters title. The junior crossed the line in 1:18.39. His collegiate-best time 1:17.84 ranks second on Iowa's all-time list.
"Will Teubel was really impressive in the 600 meters," Director of Track and Field Joey Woody said. To see a guy go out there and put together a 1:18 this early in the season is really good."
In the women's 600-meters, sophomore Elexis Guster led the way with a winning time 1:35.20, followed by senior Shannon Maser in 1:36.58. Junior Lake Kwaza captured a first-place finish in the women's 300 meters, clocking a time of 39.09.
"One the women's side I thought the 300 and 600 were really good and competitive races. It's good to see them get out there and compete at a really high level," Woody said.
Junior James Harrington raced to a first-place finish (6.84) in the 60-meter dash, while freshman Jahisha Thomas took the women's title with a time of 7:93. Sophomore Aaron Mallett won the 60-meter hurdle race in 7.99.
The women's 1,600-meter relay of Guster, sophomore Mahnee Watts, junior Kaitlyn Nelson, and senior Adrianne Alexia won the event title in 3:53.40. In the men's race, the quartet of junior Mitch Wolff, freshman Ryan Dorman, Teubel, and senior Brennan Davey finished in 3:18.86 to claim the men's title.
In the field events, freshman Leah Colbert won the women's weight throw with a toss of 49-8 ½ (15.15m), while redshirt freshman Carlos Varela-Hernandez took the men's title in 50-6 ¾ (15.41m).
Freshman Elizabeth Pagan recorded a leap of 15-2 ¾ (4.64m) to seal the top spot in the women's long jump, junior Kerry Dean Jr. took the men's title in 21-2 ¾ (6.47m).
Senior Gabe Hull and sophomore Alexa Hunt opened their indoor track season with top finishes in the shot put. Hull posted a winning mark of 54-5 ¼ (16.59m), while Hunt threw 45-4 ½ (13.83m).
"I was really pleased with everyone's efforts today," Woody said. "As long as I see great competition and tough competitors, I will be really happy. Overall, I was really pleased with the effort from everyone today, and I am excited to get started in January."
The Hawkeyes officially kick off the indoor season Jan. 10 hosting the Border Battle, which features Illinois and Missouri. The event begins at noon (CT) at the UI Recreation Building.