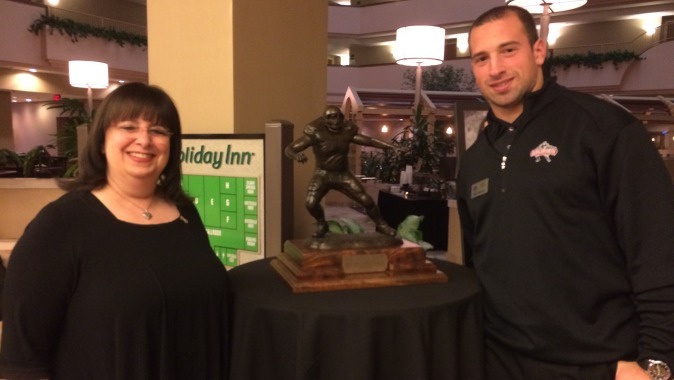 Dec. 8, 2014
Editor's Note: The following first appeared in the University of Iowa's Hawk Talk Daily, an e-newsletter that offers a daily look at the Iowa Hawkeyes, delivered free each morning to thousands of fans of the Hawkeyes worldwide. To receive daily news from the Iowa Hawkeyes, sign up HERE.
By CHRIS BREWER
hawkeyesports.com
SPRINGDALE, Ark. —Today is not the first time Mark Weisman has met his mother for lunch. But today's lunch is different than most.
Mark and Ilene Weisman arrived in Springdale, Arkansas, on Sunday as guests of the Springdale Rotary Club, which later today presents the Burlsworth Trophy to college football's most outstanding player who began his career as a walk-on.
Weisman, who led Iowa in rushing yards as a walk-on in 2012, is one of three finalists for the honor.
"It's definitely a good thing to be recognized," said Weisman. "I've always tried to be a good representative for the University of Iowa, and it's an honor to be nominated and be a finalist for this award."
The Burlsworth Trophy is named in honor of former Arkansas player Brandon Burlsworth, a walk-on who developed into an All-American and NFL draft pick before being killed in a car accident 11 days after the draft.
Weisman is one of three finalists for the award. The others are East Carolina receiver Justin Hardy, the FBS all-time leader in receptions, and Mississippi State offensive lineman Ben Beckwith, a multi-dimensional piece to the SEC's top offense.
"They are both very good players," said Weisman. "One has more catches than anyone in college football history, and the other is a lineman at a great school that has had a lot of success."
Weisman has enjoyed his own share of success since joining the Iowa program in 2012, one year after enrolling at the Air Force Academy out of high school. He rushed for 815 yards and eight touchdowns in his first season as a Hawkeye, and was put on scholarship in the spring of 2013.
He has led Iowa in rushing in the two seasons since, carrying a walk-on chip with him along the way.
"You know where you came from and you remember how hard you had to work to get there," he said. "So you think back and you continue to work hard and carry that mentality with you."
His history has also bred humility. Weisman said he isn't concerned with the outcome of today's luncheon, and that's not just lip service from Iowa's Big Ten Sportsmanship Award winner.
"We'll see what happens," he said. "If I win, I win. If I don't, I don't. It really is just an honor to be recognized."
Those are genuine words from a senior who deserves the honor as much as any college player. In just three years of service he has 30 rushing touchdowns — one of three players in school history to reach that number — and 2,510 rushing yards. He is an academic All-Big Ten honoree, a member of the UI's Dean's List, and a 2014 second-team Academic All-American.
The Burlsworth Trophy would reflect Weisman's run at Iowa as well as any piece of hardware, but the trophy is not the end all, and Weisman isn't ready to reflect on a college career left unfinished.
"Maybe when I'm older and looking back, but right now I don't really care about (career honors)," he said "I care about the moment and continuing the season as a whole. I want to finish strong with my offensive line and all those other guys. They do the dirty work that leads to yards and touchdowns. I give them all the credit."