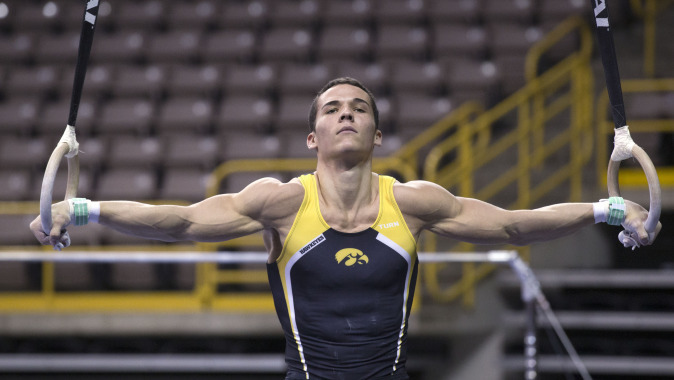 Dec. 11, 2014
IOWA CITY, Iowa — A pair of University of Iowa men's gymnasts — senior Lance Alberhasky and junior Matt Loochtan — were named to the 2015 Big Ten Gymnasts to Watch List Thursday afternoon. The Hawkeyes were also picked to finish sixth in the Big Ten Preseason Coaches' Poll.
Alberhasky competed in every meet for the Hawkeyes as a junior, recording career best numbers in four events. The Iowa City, Iowa, native contributed seven top five finishes last season, and has been focusing on rings in the offseason. He is a team captain.
Loochtan also competed in each meet last season, recording career best numbers in three events. The Hawthorn Woods, Illinois, native set the school record on floor (15.650) at Minnesota on March 15. Loochtan finished seventh on rings at NCAA individual event finals, tied for second on floor and placed seventh on rings at the NCAA Qualifier, and placed ninth on rings and 13th on vault at the Big Ten Championships last season.
Visit bigten.org to view the full list of honorees and preseason poll results. The Hawkeyes open the regular season on Jan. 17 at the Windy City Invitational in Chicago.