Dec. 11, 2014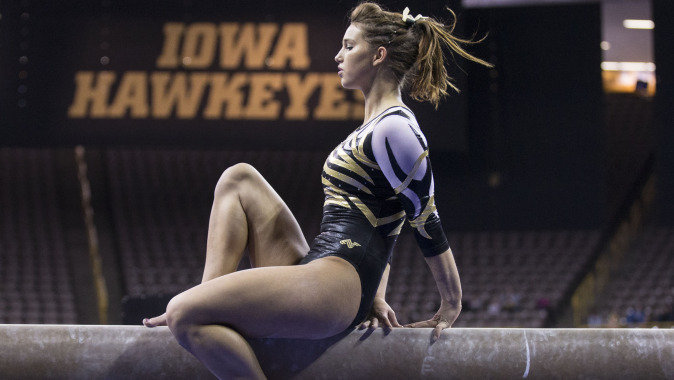 IOWA CITY, Iowa — Two University of Iowa women's gymnasts — Angel Metcalf and Sydney Hoerr — appear on the 2015 Big Ten Gymnasts to Watch List announced by the conference office this afternoon.
Metcalf, one of six sophomores to make the list, hails from Swansboro, North Carolina. She captured her third all-around title last season season against No. 20 Ohio State on Feb. 14 in Iowa's annual Pink Meet. Metcalf improved her all-around score to 39.325. She previously posted a season-best at Georgia (39.100). Metcalf received a bid to NCAA Regionals with five of her teammates to compete in the all-around. She competed in 12 meets last season, nine of which she competed for the all-around title. Her season-best all-around score of 39.325 has been tallied twice; the most recent at the 2014 Big Ten Championships.
Hoerr, who was featured on the 2014 Big Ten Watch List, is a senior from Bloomington, Illinois. Hoerr registered Iowa's individual season bests on the uneven bars (9.900 at Iowa State, March 7) and floor exercise (9.875 at Georgia, Jan. 20) last season. She competed in all 12 meets in addition to NCAA Regionals, while competing in the all-around in seven competitions. Hoerr led Iowa on the bars with a regional qualifying score of 9.855, tying for 54th nationally. Hoerr is also an Academic All-Big Ten honoree.
The GymHawks open their 2015 season on the road at head coach Larissa Libby's alma mater, LSU, on Jan. 9.