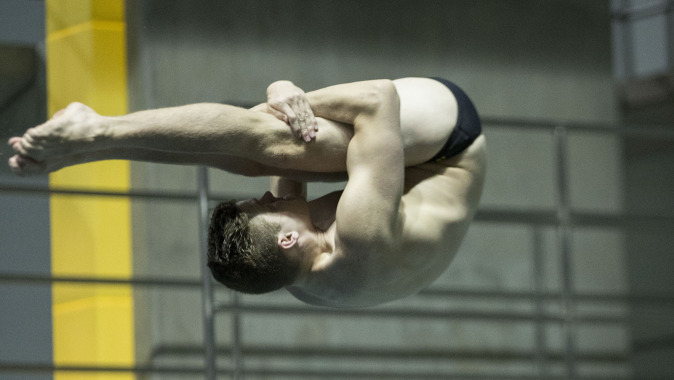 Dec. 16, 2014
Editor's Note: The following first appeared in the University of Iowa's Hawk Talk Daily, an e-newsletter that offers a daily look at the Iowa Hawkeyes, delivered free each morning to thousands of fans of the Hawkeyes worldwide. To receive daily news from the Iowa Hawkeyes, sign up HERE.
By BEN SCHMITZ
IOWA CITY, Iowa — Two University of Iowa divers — volunteer assistant Deidre Freeman and junior Addison Boschult — are among the top 125 of the United States' top divers that will compete from Dec. 16-21 at the 2014 Winter National Championships.
"It's a big event, and it's going to be a great meet with a high level of competition," said UI diving coach Todd Waikel. "It's a high pressure meet for Deidre on the 1-meter springboard because it serves as a qualifier to the World Championships in Russia. It's also an opportunity to qualify for the Grand Prix's this spring if she does well on the individual 3-meter and synchronized diving events.
"For Addison it's great opportunity because he's still kind of new to the sport and he's just starting to take off and do some great things. He has a shot at (qualifying for) the World University Games."
The duo will compete in the six day event at Ohio State's McCorkle Aquatic Pavilion in Columbus, Ohio, a familiar scene for Freeman.
"I'm excited to go back to Columbus for Senior Nationals," said Freeman. "I haven't been there for a few years, so I'm looking forward to competing in familiar area in a Big Ten pool again. It will be nice to get back to competing competitively and put more experience under my belt."
The Grinnell, Iowa, native seeks that experience and knows it will benefit her as she strives for her ultimate goal, the Olympic Games.
"My goal is eventually the Olympic team," said Freeman. "I want to make it there and medal in two events — the 3-meter and 3-meter synchro. I've been putting in the work, and I think I'm capable of it if I continue to do so."
Freeman is already an accomplished diver and a major player on the national diving scene and has experience in high-pressure meets. For Boschult, it's a first, but he embraces the opportunity.
"It feels amazing to have the chance to compete in the Winter National Championships," he said. "It's surreal to think that I was able to qualify and I'll be there competing with some of the best divers in the nation. In high school, I never imagined I'd be competing in the 10-meter platform at a USA Diving National Championship.
"Before college, I thought I would never set foot on the 10-meter platform and now I have a full competitive list. Todd had me try platform on my first day of practice as a Hawkeye, and it has been all uphill from there.
"Coming to Iowa and having Todd as a coach has been such an amazing experience. I'm looking forward to bigger competitions like this down the road."
Ten national titles will be up for grabs at the Winter National Diving Championships. The six-day event also plays a role in selecting athletes for the 2015 Grand Prix events and the 2016 U.S. Olympic Team Trials.