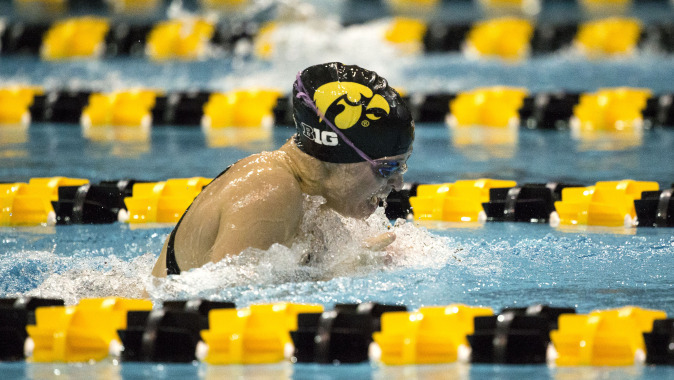 November 16, 2014
"Emma keeps racing and training at higher levels," said UI head coach Marc Long. "We're excited for her continued progress as we prepare for Big 10's & NCAA's"
The Forest City, Iowa, native swam four events against the Cyclones, winning all four and posting a pair of school records in the 100 and 200-yard breaststroke.
In the 100-yard breaststroke, Sougstad posted a top time of 1:00.14. The time was fast enough for an NCAA `B' cut and a new personal best. She followed up with a victory in the 200-yard breaststroke, finishing with an additional NCAA `B' cut and record-setting time of 2:11.71.
Sougstad took first-place in both relay events over the weekend. In the 200 medley relay, the quartet of Sougstad, freshmen Rowan Hauber and Carly O'Brien, and junior Olivia Kabacinski touched in with a time of 1:40.60 — the second-fastest in school history.
In the 400 freestyle relay, the foursome of Sougstad, freshmen Meghan Lavelle and Nikol Lagodzinska, and Kabacinski paced the field with a time of 3:22.26.
The Swimmer of the Week honor is the second of Sougstad's career. Earlier this season, she received the accolade on Nov. 4, following the Hawkeyes' dual against Minnesota.
Iowa returns to action Jan. 3, at the St. Petersburg invitational in St. Petersburg, Florida.