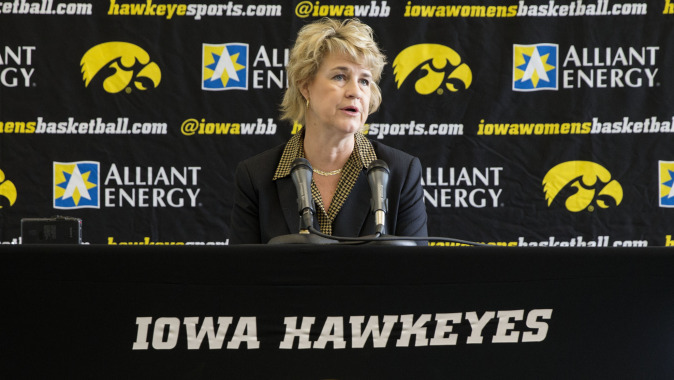 Dec. 17, 2014
By JAMES ALLAN
hawkeyesports.com
IOWA CITY, Iowa — Finals. Basketball. Holidays.
When the 23rd-ranked University of Iowa women's basketball team takes the court Sunday, finals week will be in the past, while the semester break looms.
That's why UI head coach Lisa Bluder wants to see a focused group of Hawkeyes in the nonconference finale at Drake on Dec. 21 at the Knapp Center in Des Moines, Iowa.
"Making sure they show up completely focused for this game is important," Bluder said Wednesday at a news conference in Carver-Hawkeye Arena.
The Hawkeyes last took the court Dec. 11 when they defeated Iowa State, 76-67. The team has practiced twice since, instead turning its attention from the hardwood to the text books.
"Our focus has been on finals, not basketball the last few days," said Bluder. "It needs to be because we have a lot of good students on our team. We haven't practiced Monday or Tuesday, today is the first practice of the week."
Bluder says this week's preparation includes game-planning for Drake, while "working on things we need to work on."
"During the nonconference season you play so many games in a short amount of time," said Bluder. "During the season you don't have time to do that, so it's important we have this time."
With the 10-day layoff in game competition, Bluder believes the prospect of attaining one of the team's preseason goals will keep the Hawkeyes sharp come Sunday.
"One of our goals was to be state champs, so that will help," said Bluder. "Since we've beaten Northern Iowa and Iowa State, we have one team standing in between us and our goal of being state champions.
"I am glad there is more meaning than just a road game in our nonconference season. There is a little more emotion when it's an in-state rivalry like it is with Drake."
The series has been one-sided of late with the Hawkeyes winning the last 12 games in the series dating back to the 2002-03 season. Bluder says it's a testament to how far the program has come.
"Two of the last three years we were at Drake, we were the state champions," said Bluder of her 10-year run as the Bulldogs' head coach from 1990-2000. "Ironically, Drake is still leading this series by two games… we hope to narrow that by one game Sunday."
Drake leads the all-time series, 24-22. During the Hawkeyes' 12-game winning streak, Iowa has won by an average of 15.3 points.
Bluder says two of her current players — Iowa natives Claire Till and Ally Disterhoft — will help the team understand the importance of this rivalry. The UI coaching staff also includes Drake alums Jan Jensen and Jenni Fitzgerald.
"It helps that Claire and Ally's mothers played at Drake," said Bluder. "There are more bragging rights in their own household than Drake versus Iowa. Those players will help the team understand what this means to our staff going back there and getting a good win."
Sunday's game will tip-off at 2:05 p.m. (CT), and it will be televised on Mediacom with Larry Morgan and Laura Leonard on the call.