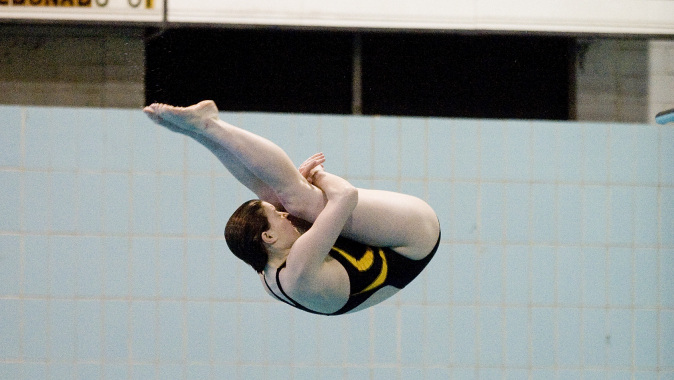 Dec. 19, 2014
COLUMBUS, Ohio — University of Iowa volunteer assistant Deidre Freeman dove to a silver medal on Dec. 20, at the 2014 USA Diving Winter National Championships at the McCorkle Aquatic Center in Columbus, Ohio.
"I'm really excited with Deidre's performance this weekend," said UI diving coach Todd Waikel. "Finishing second in synchro competition and fifth individually is really great with this level of competition. She continues to get better and this was a great weekend to come out and compete, as well as prepare for some of our upcoming meets."
Freeman dove alongside Indiana standout Jessica Parratto in the women's 3-meter synchro event. The two dove to a score of 563.40, finishing behind Abby Johnson and Laura Ryan (597.30).
The Grinnell, Iowa, native also placed fifth on the individual 3-meter on Dec. 21, posting a score of 859.10.
"I'm happy with where we're at right now," said Waikel. "This sets us up for the World Championships and Spring Nationals. We're going to keep working and get ready for it."
The Hawkeyes return to action Saturday, Jan. 3, at the St. Pete's Classic in St. Petersburg, Florida.