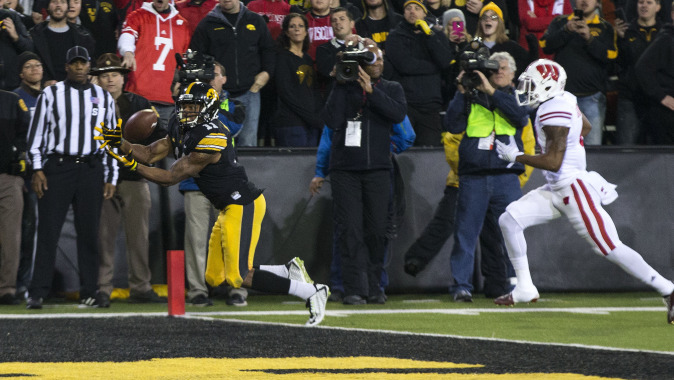 Dec. 24, 2014
Editor's Note: The following first appeared in the University of Iowa's Hawk Talk Daily, an e-newsletter that offers a daily look at the Iowa Hawkeyes, delivered free each morning to thousands of fans of the Hawkeyes worldwide. To receive daily news from the Iowa Hawkeyes, sign up HERE.
By JAMES ALLAN
hawkeyesports.com
IOWA CITY, Iowa — All Kevonte Martin-Manley wants for the holidays is a TaxSlayer Bowl victory over Tennessee on Jan. 2, 2015. If he has at least three receptions in the process, that will add extra sugar and spice.
Martin-Manley, a University of Iowa senior wide receiver, enters his final game two catches shy of tying Derrell Johnson-Koulianos (2007-10) with 173 career receptions.
"Every day I am thinking about it," Martin-Manley said of the record. "I want to leave my legacy. My high school basketball coach, before I left the program, we sat down and talked about legacy because leaving your mark wherever you go is all you have at the end of the day.
"The record will be very important to me along with getting the win."
Martin-Manley has caught passes from three quarterbacks — James Vandenberg, Jake Rudock, and C.J. Beathard — in piling up 171 receptions during a Hawkeye career that began during a redshirt season in 2010.
"I dropped my first pass from A.J. Derby," said Martin-Manley, who has a team-high 49 receptions for 494 yards this season. "I will never forget that."
Martin-Manley says the most memorable performance of his career came in his third game when he made four catches, including two for scores, for 76 yards in Iowa's 31-27 come-from-behind victory over Pittsburgh on Sept. 17, 2011. He scored the team's final two touchdowns, including the game-winner with 2:51 remaining that capped the biggest comeback in UI history.
"That was a big moment," said Martin-Manley, who earned his degree Dec. 20. "It was special because it's something that doesn't happen all the time. I think about it to this day.
"It was a moment I appreciated. That was the first step in making my mark with people knowing who I was and getting my career started on a good note."
With three catches separating Martin-Manley from Hawkeye history, the Michigan native says the feat has become somewhat consuming. The record is within reach, but he knows he still has to go out and get it.
"It has been uncomfortable, I can't relax mentally right now," he said. "There is a little bit of worry and nervousness behind it because you have to do it to get it. It's something you think about and know you can achieve it, but until you do it, it's not done.
"I have another opportunity this last game, and hopefully I do it."
UI head coach Kirk Ferentz hopes to see Martin-Manley celebrating the record Jan. 2 in Jacksonville, Florida, but won't alter the game plan to do so.
"You hope it happens for anybody, but we're not going to jury-rig the deal at all," said Ferentz. "(Being in position to set the record) is a testament to his consistency; he has been here and had a productive career. I hope it happens for him, it would be nice to see."
The TaxSlayer Bowl will be Martin-Manley's fourth bowl game as a Hawkeye (his third as a competitor). He's looking forward to leading the Hawkeyes to one final victory.
"This game will be special for me… and all the seniors," he said.
The Hawkeyes and Volunteers square off at 2:20 p.m. (CT) on Jan. 2 from EverBank Field. The game will be televised on ESPN with Mark Jones, Rod Gilmore, and Jessica Mendoza on the call.