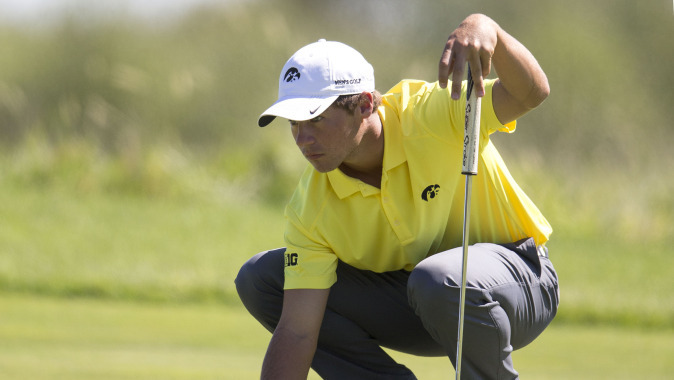 Dec. 26, 2014
IOWA CITY, Iowa — Two University of Iowa men's golfers, sophomore Carson Schaake and junior Nate Yankovich, are headed south to compete in separate amateur tournaments over the next week-and-a-half.
Schaake travels to Pensacola, Florida to compete in the Hardee's Holiday Collegiate Championship on Dec. 28-30. The three-day tournament will be played at the Perdido Bay Golf Club, the former site of the Pensacola Open for 10 years.
"I am looking forward to playing down in Florida at the Hardee's Collegiate Championship and getting the competitive juices flowing again," said Schaake. "It will be great to get back into tournament mode and having to hit shots that count. My expectations for this tournament are going to be the same as any tournament that I play in; I want to win. It's going to be an amazing time getting to compete and I'm really excited for tournament golf."
Schaake, ranked 58th in Golfweek's latest individual rankings, led Iowa in four-of-five events in the fall with his best finish coming at the Windon Memorial Classic (Sept. 21-22). The Omaha, Nebraska, native finished in a tie for fourth place after firing a 209 (-1) on 54 holes, a career-best. Schaake posted 10 rounds (out-of-14 rounds) at-or-below par during the fall, including seven under par.
Yankovich heads to Arizona to compete in the Saguaro Amateur on Jan. 2-4. The 54-hole tournament will be held at the Southern Dunes Golf Club on the southern edge of the Phoenix metropolitan area in Maricopa.
"I am really looking forward to the opportunity to play at the Saguaro Amateur this winter," said Yankovich. "It will be great to get to some warmer weather and begin to transition out of practice mode and into competition mode."
Yankovich competed in all five tournaments for the Hawkeyes this past fall, averaging 75.29 shots through 14 rounds. A native of Blacklick, Ohio, Yankovich helped Iowa finish in a tie for third place at the Windon Memorial Classic (Sept. 21-22) after shooting a career-best 212 (+2) and finishing in a tie for 14th place individually.
The Hawkeyes open the 2015 season with the annual Black and Gold Alumni Match on Feb. 7 in West Palm Beach, Florida, before competing in the Big Ten Match Play Championships, Feb. 15-16, in Palm Coast, Florida.