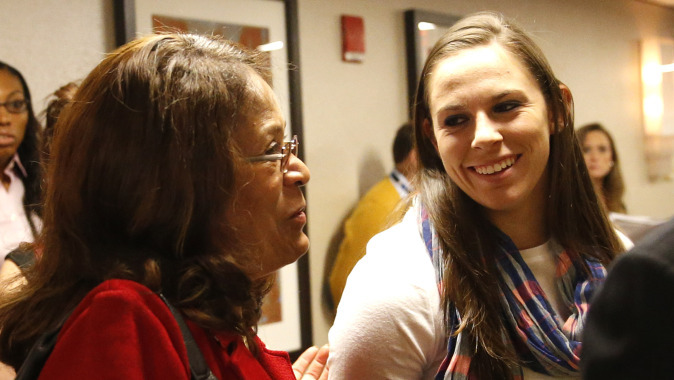 Dec. 31, 2014
Editor's Note: The following first appeared in the University of Iowa's Hawk Talk Daily, an e-newsletter that offers a daily look at the Iowa Hawkeyes, delivered free each morning to thousands of fans of the Hawkeyes worldwide.
IOWA CITY, Iowa — In the Big Ten, all games are big. Sunday's tilt in Piscataway, New Jersey, between the 20th-ranked University of Iowa women's basketball team and No. 16 Rutgers features big storylines and big ramifications.
"With Rutgers being ranked, this game serves as a huge opportunity for us," said sophomore Ally Disterhoft. "All road games are tough, especially when competing at a new venue, so getting a win in New Jersey could prove to be a signature win for our program."
The Hawkeyes took care of business Sunday at home in their Big Ten opener against Penn State, downing the Nittany Lions, 77-52, to move to 10-2 overall and 8-0 inside Carver-Hawkeye Arena.
"Starting off the Big Ten season with a solid win over Penn State was huge," said Disterhoft. "Coach Bluder always stresses the importance of defending our home court, so we were happy with our ability to do that."
The Big Ten features five ranked teams and is the No. 1 RPI conference nationally. Each game is vital in the return to the 18-game league schedule.
"It is always good to start Big Ten play with a win so you can build momentum, but honestly any win in the league is a big one because of how competitive it is night in and night out," said senior Samantha Logic.
Iowa takes a four-game winning streak into Sunday's game, but realizes this matchup will be as tough as any.
"Rutgers is a quality team," said Logic. "They are ranked and have earned the respect they deserve. It is tough because they are a new opponent for us, and we are not familiar with them. We will have to use this week to prepare for their style and athleticism. Our focus is on our execution heading into a big game Sunday."
"As with every game, defense and rebounding will be crucial against Rutgers," said Disterhoft. "We know they are a physical team that likes to push in transition, so we will have to be ready to be physical on Sunday."
The Scarlet Knights (10-2, 1-0) are ranked 16th heading into their second league game at Ohio State on New Year's Day.
Iowa's one bye during conference play falls this week.
"It is ideally not the perfect time for a bye," said UI head coach Lisa Bluder, the all-time winningest coach in program history. "You get one bye a year, and we have it the second game and have to play 17-straight games. That is not an ideal situation but we cannot control that.
"What we have to do is focus on: OK, let's spend all week getting ready for Rutgers and give it our best shot. I think you need a week to get ready for somebody like Rutgers who plays differently as far as full court press, heavy denial, great ball pressure, but also, it's a new opponent in the Big Ten. We are not familiar with that style, so it gives us more time to prepare."
Following a week of preparation, a top-20 matchup against a familiar face awaits. Sunday's contest marks the first matchup as members of the Big Ten between Iowa and former Hawkeye head coach C. Vivian Stringer.
Bluder — who ranks fourth all-time in Big Ten victories — and the Hawkeyes downed Stringer — who ranks second all-time in league victories — and the Scarlet Knights in the last meeting in the 2010 NCAA Tournament.
"They are ranked ahead of us, it's at their place, and it's our only meeting all year," said Bluder. "We face Vivian Stringer, so a lot of different emotional things go into that."
Sunday's game will tip at 11 a.m. (CT), and it will be televised live on BTN.