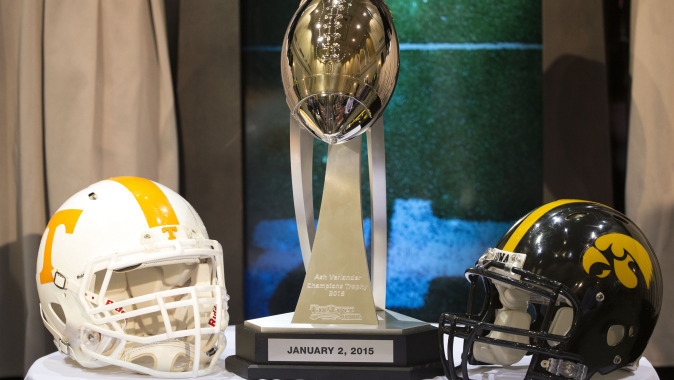 Jan. 2, 2015
Editor's Note: The following first appeared in the University of Iowa's Hawk Talk Daily, an e-newsletter that offers a daily look at the Iowa Hawkeyes, delivered free each morning to thousands of fans of the Hawkeyes worldwide.
By CHRIS BREWER
hawkeyesports.com
FERNANDINA BEACH, Fla. — It's game day. Actually it's postseason game day. And in college football, that means bowl game day.
For Tennessee it's like taking a trip down memory lane. For Iowa it has become very familiar. But neither school is taking it for granted.
The Hawkeyes are making their 12 bowl game appearance in the last 14 years under head coach Kirk Ferentz. They won games this season, the sixth time in the last seven seasons they've done so, and they're competing in January for the 12th time in program history.
"(Any bowl game) is a great experience," said Ferentz. "It's a chance to be together as a team for another four or five weeks, and to me it's all great."
Even greater has been Iowa's success in bowl games. Since Ferentz defeated Texas Tech at the 2001 Alamo Bowl, no Big Ten team has more bowl wins than Iowa.
"To me it's really about how you approach the month, or in some cases six weeks," said Ferentz. "You have to have a plan, execute that, and communicate that (plan) with your players."
Standing in Iowa's way of its seventh bowl win since 2001 is a Tennessee team that won three of its last four games to reach bowl eligibility for the first time since 2010.
The Volunteers are playing in their 50th bowl game in program history — only Alabama, Texas, and Georgia have appeared in as many — but they are playing today in the postseason for the first time since a double overtime loss to North Carolina at 2010 Music City Bowl.
That's four years and three days between bowl appearances for a school that is tied with Florida State for sixth all-time with 25 bowl wins.
"Right now these individuals have never played in December or January, nor practiced," said second year UT head coach Butch Jones.
"Being a part of this bowl game is very, very special."
Tennessee does not have a player on its roster with bowl experience, a detail that includes 17 seniors. Jones said he has talked to that group about today's chance to leave a legacy, but he's also reminded them it will not come easy.
"I have a tremendous amount of respect for coach (Ferentz) and the entire (Iowa) football program," said Jones. "This is going to be a great challenge for us. They do a great job running the football, play-action, and they can beat you with the deep ball.
"Defensively they are very sound in what they do and their players execute. At the end of the day it's all about consistency and performance, and execution by performance, and they have that."
The Hawkeyes also have a hunger for a bowl win. Iowa's 16 seniors are playing in their third bowl game, but they are yet to win the final game of the season, and today is their only chance to win the final game of a career.
"It will be emotional after," said senior Mark Weisman, "but right now it just feels like another game. We'll see how it goes and reflect on it later. Right now we're just trying to get a win against a good Tennessee team."
The Hawkeyes (7-5) and Volunteers (6-6) meet in the TaxSlayer Bowl today at 2:20 p.m. (CT) at EverBank Field in Jacksonville, Florida. The game is televised on ESPN.