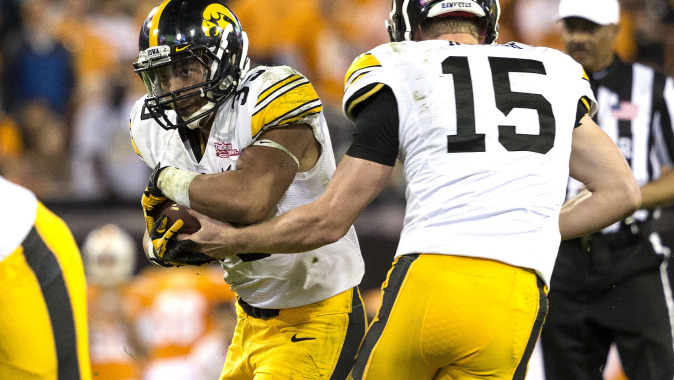 Jan. 3, 2015
Editor's Note: The following first appeared in the University of Iowa's Hawk Talk Daily, an e-newsletter that offers a daily look at the Iowa Hawkeyes, delivered free each morning to thousands of fans of the Hawkeyes worldwide. To receive daily news from the Iowa Hawkeyes, sign up HERE.
By DARREN MILLER
hawkeyesports.com
JACKSONVILLE, Fla. — Jordan Canzeri walked from the locker room after Friday's football game with no sign of a limp. With his history of injuries, that is good news.
The better news is that the junior running back from Troy, New York, looked fantastic during the TaxSlayer Bowl, picking up 120 yards on the ground on 12 carries, including gains of 32, 28, 25, 12, and 11 yards. No player topped his 148 all-purpose yards.
It is the second 100-yard rushing performance of Canzeri's career and his first since gaining 165 yards on 20 carries at Purdue on Nov. 9, 2013. But he won't spend time adoring the effort.
"The whole point was to get a win for the program and this awesome group of seniors," Canzeri said following Iowa's 45-28 loss to Tennessee in EverBank Field. "I haven't asked and I don't care how many yards. I'm just upset for the loss."
It has been a frustrating season — and career — for Canzeri, who missed two games in 2011 and two more this season because of injury. Even when he did play, it was seldom at 100 percent. He received a shot for pain prior to Friday's kickoff, then bolted through holes created by an offensive line that helped the Hawkeyes gain 421 total yards. It is the ninth time this season that Iowa has picked up more than 400 yards in a game.
"I trusted the line," Canzeri said. "You can't rush the play. I trusted what our line was going to do and they opened it up, the holes were there. They were blocking great, the tight ends were blocking great, and receivers were blocking down field. All I did was run through the hole that was given to me. They make the job so much easier and they did a great job."
Canzeri caught two passes for 13 yards and returned a kickoff 15 yards.
"That's the best he has performed all season," UI head coach Kirk Ferentz said. "We've got to keep him healthy and keep moving him forward."
With his performance against the Volunteers, Canzeri becomes the 45th player in school history to rush for more than 1,000 yards in a career (207 carries, 1,089 yards, two touchdowns). Canzeri drew praise from one of his partners in the backfield — senior Mark Weisman — who scored two touchdowns yesterday and finished his career with 2,602 rushing yards and 32 scores.
"It's awesome to see him do well," Weisman said. "He played his (butt) off and was making guys miss; looking like the Jordan we have seen in practice, bowl prep, and earlier this year before he got hurt."
The first start of Canzeri's career came in the 2011 Insight Bowl against Oklahoma, where he rushed for 58 yards and caught six passes. In 2012, he suffered a major knee injury in practice and redshirted. There were three games in 2013 where he received double-digit carries and three more this season before the TaxSlayer Bowl. Of his career rushing total, 212 yards have come in the Insight, Outback, and TaxSlayer bowls.
"I want to be able to do more for my team. This year I was hurt a lot and wasn't able to contribute as much as I wanted," Canzeri said. "Even though people told me I had a good game, I'm not thinking about that at all. I'm upset I couldn't finish some of those plays. I could have got in for a touchdown — I feel I could have done more for my seniors and more for the team. That is something I will work on in the off-season."
At 7-6, Iowa finished with a record of at least .500 for the 12th time in the last 14 seasons.