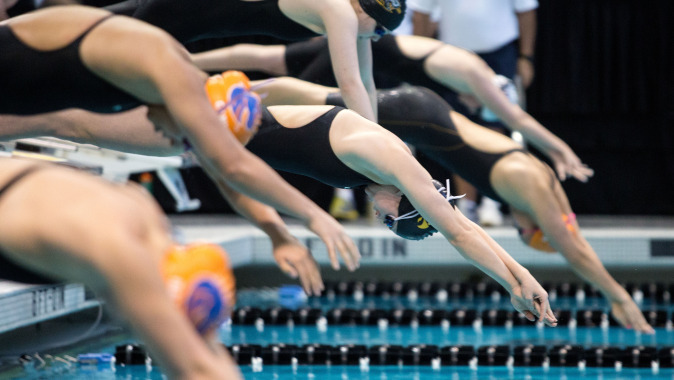 Jan. 3, 2015
Complete Results

ST. PETERSBURG, Fla. — The University of Iowa women's swim team earned a first-place finish on Saturday at the St. Petersburg Invitational in St. Petersburg, Florida. The Hawkeyes scored 126 points, topping University of Arkansas-Little Rock (80), South Dakota State University (80), and Sacred Heart University (50).
Iowa jumped out to an early lead in the 200 free relay and never looked back, claiming top finishes in all nine events. The quartet of Emma Sougstad, Taylor Flummerfelt, Allison Orvis, and Lauren Leehy paced the opening event — the 200 free relay field with a time of 1:39.25. Olivia Kabacinski, Mckenna Scheitlin, Rowan Hauber, and Tereysa Lehnertz finished second with a time of 1:39.90.
In the 800 free relay, the foursome of Becky Stoughton, Hillary Weigand, Izzie Bindseil, and Nikol Lagodzinska swam to a top finish touching in at the 7:56.52 mark.
The trio of Summer Campbell, Ashley Horodyski, and Carly O'Brien extended the lead in the 3×100 butterfly relay event. The threesome swam to a top time of 2:57.18. Lehnertz, Pamela Breitrick, and Elaine Boosalis finished second (2:59.76).
Meghan Lavelle, Maddie Bro, and Orvis shined in the 3×100 backstroke relay. The trio swam to a first-place finish with a time of 2:55.25. Hauber, Breitrick and Audrey Kumm took second touching in at the 3:01.47 mark.
In the 3×100 breaststroke relay, the threesome of Emma Sougstad, Hannah Maher, and Olivia Kabacinski swam to a first-place time of 3:24.00. Colleen Champa, She Hoyt, and Bindseil finished third touching in at the 3:29.73 mark.
The Hawkeyes dominated the 500 freestyle taking gold, silver, and bronze. The quartet of Lauren Leehy, Meghan Lavelle, Serena Wanasek, and Summer Campbell paced the field touching in with a time of 4:44.62. Scheitlin, Lehnertz, Jennifer Weigand, and Flummerfelt took second (4:46.23) and Jo Jekel, Orvis, Lagodzinska, and Maher finished third (4:51.58).
Stoughton picked up her second win on the night in the 3×500 freestyle relay. The Peoria, Illinois, native swam alongside Weigand and Bindseil. The trio touched in with a time of 5:37.08.
In the 200 medley relay, the foursome of Hauber, Hoyt, O'Brien, and Leehy swam to a first-place finish with a time of 1:51.44. Bro, Sougstad, Lehnertz, and Orvis finished second (1:51.48).
In the final race — the 400 yard freestyle relay — the Hawkeyes posted a 1-2-3 finish. The quartet of Flummerfelt, O'Brien, Sougstad, and Kabacinski took first place (3:40.16), Lagodzinska, Scheitlin, Weigand, and Lavelle finished second (3:43.06), and Serena Wanasek, Jekel, Stoughton, and Lavelle took third (3:44.08).
The Hawkeyes return to action Saturday, Jan. 17, taking on Illinois at 11 a.m. (CT) in Champaign, Illinois.