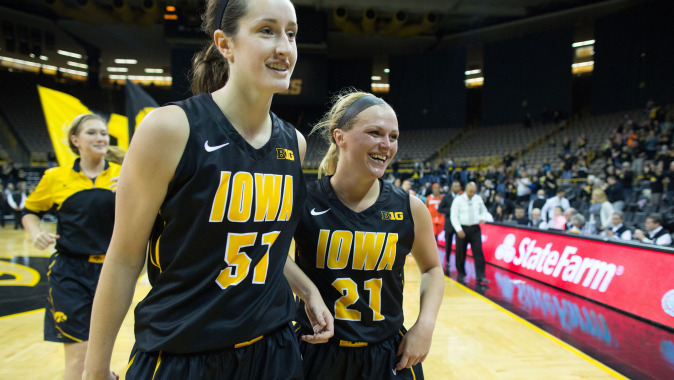 Jan. 7, 2015
Editor's Note: The following first appeared in the University of Iowa's Hawk Talk Daily, an e-newsletter that offers a daily look at the Iowa Hawkeyes, delivered free each morning to thousands of fans of the Hawkeyes worldwide.
IOWA CITY, Iowa — The University of Iowa women's basketball team embodies the word 'team' like few others. This team atmosphere and unselfish style of play leads to success.
The Hawkeyes hold a record of 11-2 and 2-0 in Big Ten play heading into their game Jan. 8 at Illinois, and are ranked 17th nationally and ninth in NCAA RPI.
Iowa's selfless style has led to a five-game winning streak and new program records.
"That is us, that is what we want to do, and that is what Iowa women's basketball is supposed to look like," said UI head coach Lisa Bluder about Iowa's selfless, up-tempo attack. "Last year, we put the pieces together to make that happen. Our team bought into it, and it's easy to sell it this year to our team because they know the success and they enjoy playing it. We have recruited players that fit well with that system."
During the Hawkeyes' 100-98 win at Drake on Dec. 21, senior Melissa Dixon made 10 3-pointers (10-of-14), setting a new school record. The previous school record was seven, accomplished five times in program history, twice by Dixon. The NCAA and Big Ten record for 3-pointers in a single game is 12.
The Johnsburg, Illinois, native added five 3-pointers during Iowa's Big Ten-opening 77-52 win over Penn State on Dec. 28.
On Jan. 4, Dixon converted six from beyond the arc, becoming Iowa's record holder for career 3-point field goals (263), surpassing Lindsey Meder (261).
"It means a lot," said Dixon on the record that stood for 12 years. "It always goes back to my teammates. They are always looking for that one extra pass. They are so unselfish, and we play together as a team. My teammates are awesome. All the credit goes to them."
Dixon, the national leader in 3-pointers per game, connected on 21 over the three-game stretch.
"Instant life," said Bluder about a 3-pointer by No. 21. "She is unbelievable. We will take an open 3 from Melissa any day. She becomes our career leader in 3-pointers, surpassing Lindsey Meder who was drafted in the WNBA; big congratulations goes to her.
"That is a quality record, and she will keep adding to it. I am so happy for Melissa because she has worked so hard at it."
Iowa is second nationally in 3-point field goal percentage, ninth in scoring offense, 17th in field goal percentage, and 21st in assist-to-turnover ratio. There are 349 Division I teams.
This is the Hawkeye style, and you can see it on the court, and hear it off the court.
"I am so proud of Melissa and happy for her," said senior All-American Samantha Logic. "She is in the gym all the time getting shots up. That is what we need from her. We knew she would get the record, it was just a matter of when."
The Hawkeyes look to continue their winning ways on Thursday at Illinois. Tip-off is set for 7 p.m. (CT) on BTN Plus from the State Farm Center.
Iowa returns home to host Purdue on Sunday at Carver-Hawkeye Arena. The contest will begin at 1 p.m. (CT) on BTN.