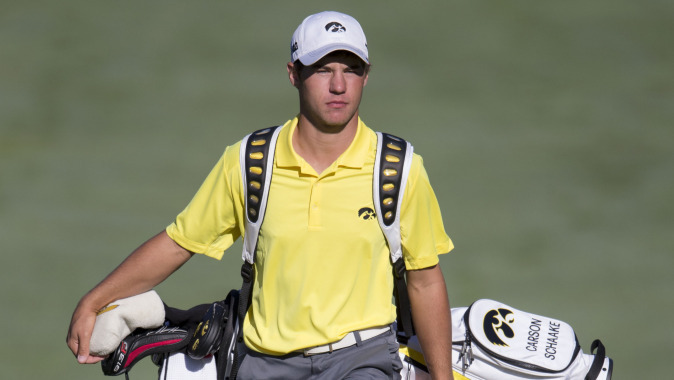 Jan. 9, 2015
IOWA CITY, Iowa — Two University of Iowa men's golfers, sophomore Carson Schaake and junior Nate Yankovich, competed in separate amateur tournaments over the last couple weeks.
Schaake, ranked 58th in Golfweek's latest individual rankings, competed in the Hardee's Holiday Collegiate Championship (Dec. 28-30), a 54-hole tournament played at Perdido Bay Golf Club in Pensacola, Florida, featuring 57 amateur players from around the country. The Omaha, Nebraska, native finished the tournament in sixth place after carding a three-round total of 217 (+1). Schaake posted rounds of 75, 70, and 72. Michael Peter of North Alabama won the tournament with a three-round total of 207 (-9).
Schaake led Iowa in four-of-five events in the fall with his best finish coming at the Windon Memorial Classic (Sept. 21-22). The Omaha, Nebraska, native finished in a tie for fourth place after firing a 209 (-1) on 54 holes, a career-best.
A native of Blacklick, Ohio, Yankovich traveled to Arizona to compete against 111 other amateurs in the Saguaro Amateur (Jan. 2-4), played at the Southern Dunes Golf Club in Maricopa. Yankovich posted a one-under-par 71 in the first round before carding back-to-back rounds of 73 (+1) in the second and third rounds to finish in a tie for 31st place.
Yankovich competed in all five tournaments for the Hawkeyes this past fall, averaging 75.29 shots through 14 rounds.
The Hawkeyes open the 2015 season with the annual Black and Gold Alumni Match on Feb. 7 in West Palm Beach, Florida, before competing in the Big Ten Match Play Championships, Feb. 15-16, in Palm Coast, Florida.