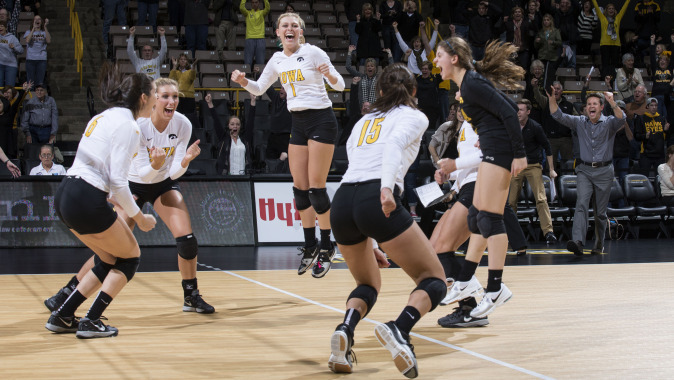 Jan. 15, 2015
2014 FINAL NOTES

SEASON SUMMARY
The University of Iowa volleyball program played to a 14-17 record overall and a 6-14 record in Big Ten Conference action under first-year head coach Bond Shymansky.
B1G VICTORIES
Iowa logged six wins in Big Ten Conference play for the first time since 2008. The team recorded its first conference win at home against Northwestern, outlasting the Wildcats in five sets. It marked the first win for the program over Northwestern since 2009 when the Hawkeyes swept the Wildcats in Carver-Hawkeye Arena.
The Hawkeyes collected four Big Ten wins in a row — the longest conference win streak since 1994 when the team recorded eight consecutive victories and went on to clinch a berth to the NCAA Tournament – with a sweep at Maryland, a four-set win at Rutgers, a five-set victory against Indiana and a four-set win over No. 12 Purdue. Iowa earned its sixth conference win in the final week of the season with a 3-2 victory over Maryland at home.
WIN STREAK TO REMEMBER
The Hawkeyes won four consecutive Big Ten Conference matches midway through the 2014 season, topping Maryland (3-0) and Rutgers (3-1) on the road before returning to Iowa City and extending its win streak with victories over Indiana (3-2) and No. 12 Purdue (3-1). It marked the longest streak since 1994; when the Hawkeyes won eight straight Big Ten matches and went on to clinch a berth to the NCAA Tournament — the most recent postseason appearance for the program.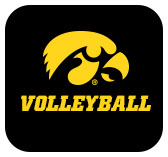 HAWKEYES TOPPLE 12TH-RANKED PURDUE
Iowa defeated its first ranked opponent since 2012 with a 3-1 victory over No. 12 Purdue on Mediacom Court in Carver-Hawkeye Arena. Outside hitter Lauren Brobst spurred on the victory for the Hawkeyes, posting 22 kills and hitting .472 to pace the squad. Setter Kaylee Smith dished out a team-high 25 assists, while three players reached double figures in digs, including Julianne Blomberg (18), Michelle Fugarino (15) and Kari Mueller (10). Junior middle Mikaela Gunderson led the blocking front with four total in the win.
DIETZ REWRITES THE RECORD BOOK
Senior Alessandra Dietz broke the eight-year-old Iowa career attack percentage record of .276 previously set by Jen Barcus in 2006, finishing her career with a .278. Dietz hit .236 as a sophomore, .262 as a junior and .348 as a senior. The middle blocker also broke the five-year-old single match attack percentage record in 2014, when she hit .882 with 15 kills in Iowa's 3-0 sweep of South Dakota State. Dietz is also tied for 11th all-time with 274 career blocks (37 solo blocks and 237 block assists).
RECORDS FALL, CAREER LISTS ALTERED
? Alessandra Dietz ended her Hawkeye career as the all-time career attack percentage record holder (.278), the individual single match attack percentage record holder (.882), and tied for 11th all-time in career blocks (274).
? Alex Lovell closed her Hawkeye career ninth all-time in career kills (1,279). She is just the 17th player in Iowa volleyball history to log a minimum of 1,000 career kills, and the first since 2009 to do so (Megan Schipper recorded 1,169 from 2006-09).
? Alyssa Klostermann ranks 19th all-time with 992 career assists after two seasons with the Hawkeyes. She dished out 484 as a freshman and added 508 as a sophomore.
300 WINS CLUB
First-year head coach Bond Shymansky earned his 300th career victory when Iowa completed a 3-0 sweep at Maryland on Oct. 31, and added four more to his win total the remainder of the season. Shymansky has earned 14 of his 304 career victories at Iowa, 117 in five seasons at Marquette and 172 in seven seasons at Georgia Tech. He currently owns a 304-126 record and a .707 win percentage in 13 seasons as a head coach.
CHAMPIONSHIP WEEKEND
The Hawkeyes played to a 4-0 record at the 2014 SDSU Challenge to earn the first tournament championship of the Bond Shymansky era. Iowa opened the tournament with a pair of 3-0 victories over Eastern Illinois and North Dakota on Sept. 12, and concluded the weekend with a 3-1 win over Florida International and a 3-0 win over host South Dakota State on Sept. 13.
ALL-TOURNAMENT HONORS
Three Hawkeyes — Alex Lovell, Jess Janota and Alessandra Dietz — garnered all-tournament team recognition in the first three weeks of the season. Lovell and Janota were named all-tournament at the Texas A&M Tournament, Dietz and Lovell made the Residence Inn All-Tournament team, and Janota and Dietz were all-tournament selections for their efforts at the 2014 SDSU Challenge.
BIG TEN HONORS
Following the regular season, seven Hawkeyes — Julianne Blomberg, Alessandra Dietz, Alyssa Klostermann, Erin Leppek, Alex Lovell, Alli O'Deen and Emily Yanny — received Academic All-Big Ten recognition for maintaining a cumulative GPA of 3.0 or higher. Lovell was also the recipient of the Big Ten Sportsmanship Award.
CONFERENCE STATS SUMMARY
? The Hawkeyes finished tied for 10th in the Big Ten standings with a record of 6-14, along with Northwestern and Indiana.
? Senior Alessandra Dietz closed the season ranked eighth in the Big Ten in hitting percentage (.348) and ninth in service aces per set (0.25).
? Michelle Fugarino ended her freshman campaign sixth in the conference and second among league freshmen in digs per set (3.98).
SUCCESS IN 4 OR MORE
In matches lasting more than three sets this season, the Hawkeyes liked their chances of securing a win. Iowa volleyball went 8-1 on the season in matches lasting four or five sets. The squad was a perfect 5-0 in four-set matches this season with victories over UT-San Antonio, Idaho State, Florida International, Rutgers and No. 12 Purdue. In five set matches, Iowa went 3-1 with wins over Northwestern, Indiana and Maryland — all of which came at home in Carver-Hawkeye Arena. The team's lone five-set loss came against No. 15 Illinois at home.
ACADEMIC ACCOMPLISHMENTS
Iowa volleyball earned the American Volleyball Coaches Association (AVCA) Team Academic Award in the preseason for maintaining at least a 3.30 cumulative team GPA during the 2013-14.
Seven Hawkeyes — Julianne Blomberg, Alessandra Dietz, Alyssa Klostermann, Erin Leppek, Alex Lovell, Alli O'Deen and Emily Yanny — received Academic All-Big Ten recognition after the completion of the 2014 season for maintaining a cumulative GPA of 3.0 or higher.
HOME COURT ADVANTAGE
There has been a significant increase in volleyball attendance in Carver-Hawkeye Arena from 2013 to 2014. Iowa welcomed a crowd of more than 1,000 in eight of its 10 home matches for an average of 1,375. In 2013, the Hawkeyes averaged 1,109 fans at home.
This season, Iowa welcomed its fourth-largest crowd in program history (2,631) on Sept. 27 against Nebraska, and its 13th-largest crowd (1,723) on Oct. 4 against Penn State.
UNDERCLASSMEN EXPERIENCE
All seven underclassmen saw time in the starting lineup in 2014. Michelle Fugarino started all 31 matches at the libero position, followed by outside hitter Lauren Brobst who started all but one (30). Setter Alyssa Klostermann logged 26 starts, followed by setter Kaylee Smith (14), right side hitter Jess Janota (14), right side hitter Taylin Alm (4), and outside hitter Danielle Cabel (1).
THE PREMIER CONFERENCE
Iowa competes in the Big Ten Conference, which has had an NCAA Champion in seven of the last 11 years. Six teams — Wisconsin, Penn State, Illinois, Nebraska, Michigan State and Ohio State — appeared in the 2014 NCAA Tournament with the Nittany Lions winning their sixth national title in the last eight years.
Seven Big Ten volleyball teams were ranked or receiving votes in the final AVCA Division I Coaches poll, which was released on Dec. 22. NCAA Champion Penn State topped the poll at No. 1, followed by Big Ten Champion Wisconsin at No. 4. Nebraska checked in at No. 8, followed by No. 11 Illinois and No. 13 Ohio State. Michigan State and Purdue were receiving votes in the final poll.
U.S. NATIONAL TEAM TRYOUTS
Three Hawkeyes — Alessandra Dietz, Erin Radke and Lauren Brobst — gained valuable experience trying out for the U.S. Women's National Team at the U.S. Olympic Training Center in Colorado Springs, Colorado, last February.
PREP VOLLEYBALL HONORS
The 2014 UI volleyball class of junior transfer Mikaela Gunderson and freshmen Taylin Alm, Danielle Cabel, Michelle Fugarino, Jess Janota and Kaylee Smith received Prep Volleyball Highest Honorable Mention distinction last May.
Prep Volleyball consults college coaches from across the country and compiles a Top 30 recruiting class list, followed by a 25-team Highest Honorable Mention list and a 44-team High Honorable Mention list.
ROSTER REVIEW
Five Hawkeyes — Alessandra Dietz, Erin Leppek, Alex Lovell, Kari Mueller and Emily Yanny — closed their careers in 2014. Ten letterwinners are set to return in 2015, nine of which saw time in the starting lineup during the regular season. Shymansky has announced the addition of four newcomers — junior transfer setter Loxley Keala, and freshmen defensive specialist Molly Kelly, right side hitter Reghan Coyle and outside hitter Reagan Davey.
A NEW ERA
Bond Shymansky was named the ninth head coach of the Iowa volleyball program on Jan. 31, 2014. The UI alum and Iowa City, Iowa, native owns a career record of 304-126 (.707) after 13 seasons.
Shymansky came to Iowa following five seasons (2009-13) at the helm of the Marquette volleyball program, where he guided the Golden Eagles to their first NCAA berth, NCAA victory, and first Big East regular season title. Marquette also won a Big East Tournament Championship, and made three-straight postseason appearances (2011-13).
Shymansky added associate head coach Michaela Franklin and assistant coach Jackie Simpson on Feb. 25, 2014 and completed his staff with the addition of director of operations Danielle Carlson.
#GREATTODAY
The Hawkeye volleyball program has been focused on one moniker since the arrival of head coach Bond Shymansky and his staff. Whether student-athletes are on the court, training in the weight room or learning in the classroom, the Hawkeyes want to be #GreatToday. A major shift in a program can be challenging, but striving for greatness in each area with exceptional effort has been helpful for the group.