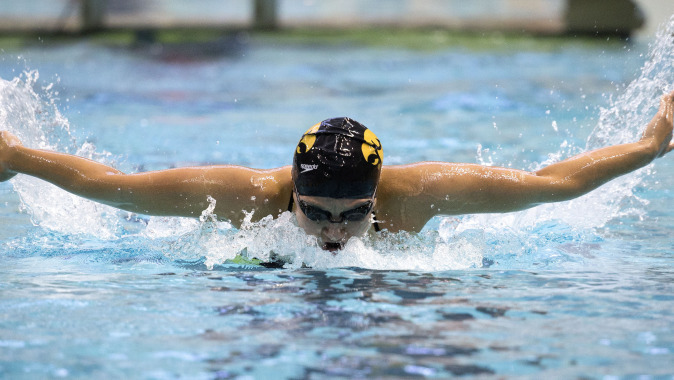 Jan. 15, 2015
IOWA CITY, Iowa — The University of Iowa women's swimming and diving team is ranked No. 21 in the latest CSCAA Division I rankings, it was released Thursday.
The Hawkeyes, who have a 3-2 dual record, earn the ranking following a trio of wins at the St. Petersburg Invite, versus Iowa State, and the Hawkeye Invitational.
Iowa is one of six Big Ten schools in the top-25 rankings, alongside Michigan (No. 9), Minnesota (No. 11), Indiana (No. 14), Penn State (No. 17), and Wisconsin (No. 24). Purdue also received votes.
Seven Hawkeyes have swam to a combined 16 NCAA `B' cut times this season and two are nationally ranked.
Becky Stoughton, a senior native of Peoria, Illinois, holds the 15th-fastest time in the 1,000 free (9:49.51), and 31st-fastest time in the 1,650 free (16:21.97).
Sophomore Emma Sougstad holds the 15th-fastest time in the 100 breast, with a UI record performance of 1:00.14. The Forest City, Iowa, native also ranks 28th nationally and holds the school record in the 200 breast (2:11.71).
The Hawkeyes return to action Saturday in Champaign, Illinois, competing in a Big Ten matchup against Illinois at the ARC Pool at 11 a.m. (CT).