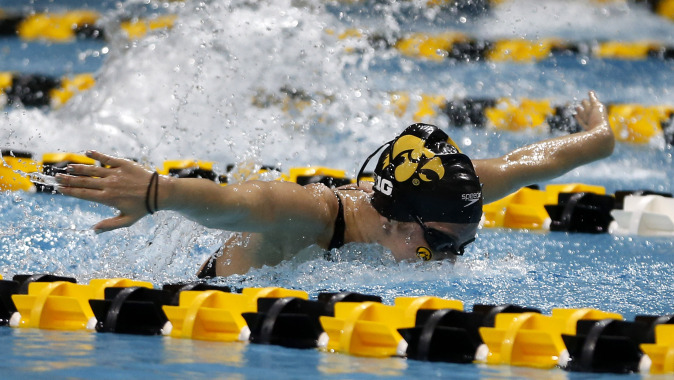 Jan. 17, 2015
CHAMPAIGN, Ill. — The 21st-ranked University of Iowa women's swimming and diving team earned a 165-135 Big Ten win over Illinois on Saturday at the ARC Indoor Pool in Champaign, Illinois. The Hawkeyes won 9-of-16 events and broke three pool records while improving to a 4-2 mark in dual meets this season.
"I'm proud of our team for getting a Big Ten win on the road," said UI head coach Marc Long. "It was a hard-fought win. I'd like to see improvement in all areas, especially in relays in order to reach this team's full potential. They're a hard-working and competitive bunch and I have confidence in their future."
Becky Stoughton had an outstanding performance claiming three top finishes and a runner-up placing while rewriting the ARC Indoor Pool record books in two events. The Peoria, Illinois, native found success early in the 1,000 free, putting Iowa on top with a first-place finish and a record-setting time of 9:59.58. Stoughton also broke a pool record in the 500 free touching in with a top time of 4:53.65. The senior's final win came in the 200 butterfly outlasting Illinois junior Sarah Sykstus with a time of 2:04.08.
A back-and-fourth battle left the Hawkeyes trailing by six points entering the fifth event — the 100 yard breast stroke. UI sophomore Emma Sougstad helped regain the lead picking up nine points with a first-place finish (1:04.47) that put Iowa on top, 48-45. The Forest City, Iowa, native was also a top finisher in the 200 breaststroke touching in at the 2:19.36 mark.
From that point on, the Hawkeyes won five straight events and would not return the lead. UI sophomore Taylor Flummerfelt had a pair of those wins swimming to first-place finishes in the 200 fly (2:04.08) and the 100 free (52.70).
In the diving well, the Hawkeyes stole the show finishing 1-2-3 on the 1-meter and 3-meter. Joelle Christy paced the field on the 1-meter diving to a top finish with a score of 316.50. Lauren Kelba finished second with a score of 299.85 and Abby Grilli placed third (289.50). All four of Iowa's divers achieved season-best scores for the 2014-15 season.
On the 3-meter, Lauren Kelba led the field diving to a score of 332.17. Lydia Lehnert finished second with a score of 312 and Joelle Christy took third (301.58). Kelba, Lehnert and Abby Grilli (278.55) all reached season-best diving scores.
The Hawkeyes return to action Saturday, Jan. 24, hosting Northwestern in a Big Ten matchup at the Campus Recreation and Welless Center Natatorium in Iowa City, Iowa.