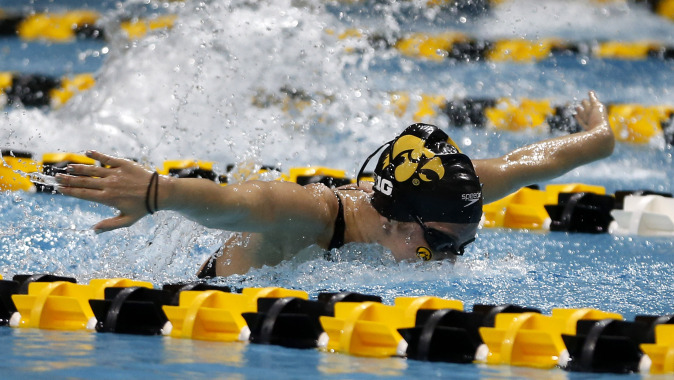 Jan. 21, 2015
Editor's Note: The following first appeared in the University of Iowa's Hawk Talk Daily, an e-newsletter that offers a daily look at the Iowa Hawkeyes, delivered free each morning to thousands of fans of the Hawkeyes worldwide. To receive daily news from the Iowa Hawkeyes, sign up HERE.
By BEN SCHMITZ
IOWA CITY, Iowa — University of Iowa senior Becky Stoughton is a new, proud record-holder in her home state pool.
Stoughton, a Peoria, Illinois, native took down a pair of pool records at the ARC indoor Pool on Jan. 17 in Champaign, Illinois, in the Hawkeyes 165-135 dual victory.
"Those were some old pool records," said UI head coach Marc Long. "Becky is having an impressive senior season. She and the rest of the senior class are leaving an impact on the program and are making sure they've left it in a better place than when they arrived here, and it's great to see."
Stoughton broke the pool records in the 500 free (4:53.65) and 1,000 free (9:59.58), breaking records in two of her three wins.
"The meet itself was exciting," Stoughton said. "It was great to see everyone back in the pool racing again. We just came off a training trip in St. Petersburg, Florida, so we were all exhausted, but it was good to see the freshmen step up and give it all they had."
The freshmen class indeed stepped up.
In 9-of-16 events, the newcomers accounted for 13 scoring positions which led to 34 points. Stoughton credits the class for an immediate impact on the rising program and expects a bright future.
"The freshmen class has been amazing this year," Stoughton said. "I couldn't imagine a better group of talented girls to wrap up my years here in Iowa City with. It's cool to see the program take off. Each year we get a new group of girls and they continue to get more and more enthused about what's happening."
As she nears the final laps of her Hawkeye career, Stoughton has her sights set on one final shot at the NCAA Championships. As a freshman, she placed ninth in the 1,650 free at the NCAAs in Auburn, Alabama, but has yet to return to the championship stage.
Stoughton has touched in with NCAA 'B' cuts in four separate events — 500 free, 1,650 free, 200 fly, and 400 IM — this season and is hoping to qualify once more for a shot on the big stage.
"It's huge to have made a 'B' cut in four events this early in the year," Stoughton said. "I'm hoping to make it back to the NCAAs this year in one of those four events. It'd be nice to experience it all again. I'm just going to keep working hard and hope for the best."
Long believes Stoughton's goal is attainable and he holds the rest of his team to high expectations as well. He says it's a matter of executing and taking care of the opportunities that lie ahead.
"We had a tremendous Hawkeye Invitational and a lot of that was unshaved," said Long. "It's a confident bunch that has realistic and high expectations. We're excited to head into the toughest conference meet in the country with our sights set on scoring and getting to the NCAA meet in as strong of a position as possible. We'll keep training, and I'm confident the best is yet to come."
The Hawkeyes return to action Saturday hosting Northwestern in a Big Ten matchup at the Campus Re­­creation and Wellness Center Natatorium beginning at 11 a.m. (CT).