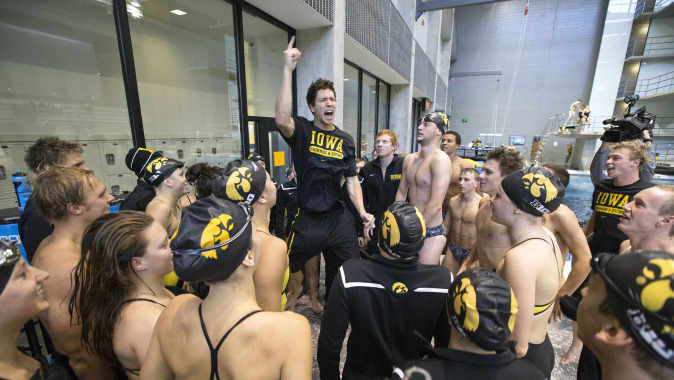 Jan. 22, 2015
IOWA CITY, Iowa — The University of Iowa men's swimming and diving team ranks 19th in the first College Swimming Coaches Association of America (CSCAA) Division I team rankings of 2015, it was announced Thursday by the CSCAA.
The Hawkeyes earn the ranking following a win at the Hawkeye Invitational and a 2-2 start in dual meets. Iowa holds wins over Michigan State and South Dakota State while falling only to No. 5 Michigan and No. 23 Minnesota.
Iowa is one of six Big Ten schools in the top-25 rankings, alongside No. 5 Michigan, No. 9 Indiana, No. 12 Ohio State, No. 17 Wisconsin, and No. 23 Minnesota. Penn State also received votes.
Eight Hawkeyes — Jerzy Twarowski, Roman Trussov, Jackson Halsmer, David Ernstsson, Chris Dawson, Grant Betulius, Chris Freeman, and Andrew Parker — have a combined 15 NCAA "B" cut times in 2015. Betulius also holds an NCAA "A" cut time in the 100 backstroke, touching out in 45.56 seconds — a time that ranks No. 2 in the country. He is one of two swimmers to post an "A" time thus far in the 2014-15 season.
Iowa also has two divers that have posted NCAA Zone Standard diving scores on the 1-meter, 3-meter, and platform. Brandis Heffner posted qualifying dives on the 1-meter (325.88) and 3-meter (339.00). Addison Boschult posted qualifying dives on the 1-meter (310.95), 3-meter (367.13), and platform (394.35).
The Hawkeyes return to action Saturday, hosting Northwestern in a Big Ten dual at the Campus Recreation and Wellness Center Natatorium beginning at 11 a.m. (CT).