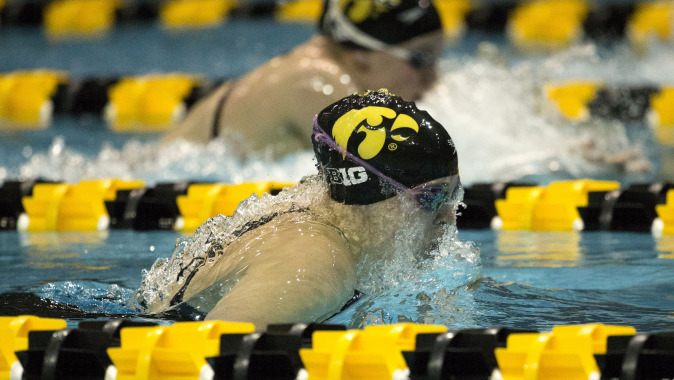 Jan. 24, 2015
IOWA CITY, Iowa — The University of Iowa women's swimming and diving team finished Saturday's Big Ten dual against Northwestern on the wrong end of a 152-142 decision at the Campus Recreation and Wellness Center Natatorium in Iowa City, Iowa. The Hawkeyes benefitted with wins in 7-of-16 events but were unable to complete the comeback.
UI senior Becky Stoughton picked up Iowa's first win in the 1,000 free touching in with a time of 9:56.81. Stoughton also led the field in the 500 free (4:52.58) and finished second in two events — the 200 fly (2:02.00) and the 400 free relay (3:26.80).
Trailing by 18 points, a 1-2 finish from Emma Sougstad (1:03.23) and Colleen Champa (1:04.56) in the 100 breast helped narrow the deficit to nine. Sougstad won 3-of-4 events tallying additional wins in the 200 breast (2:18.07) and 200 IM (2:04.55) and a runner-up finish in the 200 medley relay (1:43.18).
Iowa closed out the final race with a runner-up showing in the 400 free relay. The quartet of Lauren Leehy, Becky Stoughton, Nikol Lagodzinska, and Meghan Lavelle touched out with a time of 3:26.80.
Due to an injury-plagued roster, the Wildcats were unable to compete in Saturday's diving competition leaving the Hawkeye divers to run the show.
Lauren Kelba was the first-place finisher on the 1-meter with a score of 272.40, finishing well ahead of the rest of the field and second-place Abby Grilli (234.60). Kelba Finished third on the 3-meter (266.85).
Leading the way on the 3-meter was UI sophomore Lydia Lehnert who dove to a score of 266.85. Lehnert finished fourth on the 1-meter (230.55).
Joelle Christy also had a strong showing in the diving well with a runner-up finish on the 3-meter (270.53) and a third-place showing on the 1-meter (231.00).
"It's great to get the wins and the points but I would have liked to have seen a little more out of the girls today," said UI head coach Todd Waikel. "It's been a busy week for everyone with intense training over break, the meet last weekend, and classes starting up but we're going to continue to work and battle and keep getting ready for the Big Tens."
The Hawkeyes return to action Jan. 30-31, in South Bend, Indiana, competing in the Shamrock Invite.