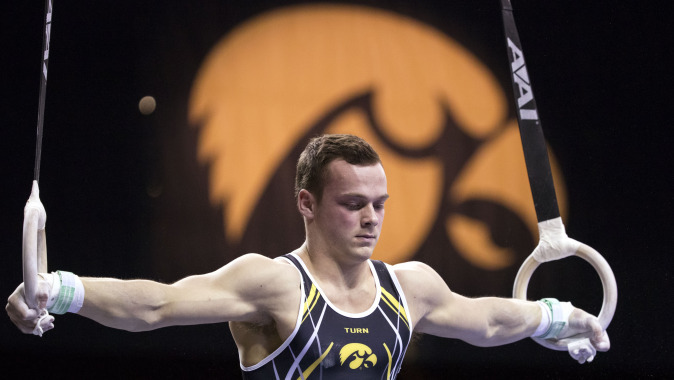 Jan. 28, 2015
Weekly Release

THIS WEEK:
The No. 9 ranked University of Iowa men's gymnastics team host No. 1 Oklahoma and No. 6 Ohio State for tri-meet action on Sunday Feb. 1 inside Carver-Hawkeye Arena. The competition begins at 12 p.m. (CT).
FOLLOW ALONG:
Fans can follow along online at meetscoresonline.com. Select the meet and click PDF for individual score results. A live stream of the meet is also available on the Iowa men's gymnastics schedule page at hawkeyesports.com.
PROMOTIONS:
Iowa men's gymnastics celebrates Student Day on Sunday. The first 50 students through the door receive a free slice of pizza and a pop. Students in attendance are also eligible to register to win 2 $50 Hy-Vee gift cards.
LAST TIME OUT:
Iowa took on UIC inside Carver-Hawkeye Arena for its first home meet of the year. The Hawkeyes won the event handily, 428.600-398.600, defeating the Flames for the second time this season. Iowa won four of six events that included junior Doug Sullivan on the pommel horse (14.950), junior Matt Loochtan earned the parallel bars title with a score of 14.600, and junior Jack Boyle won rings (15.400) and floor exercise (14.750).
BOYLE SELECTED CO-BIG TEN GYMNAST OF THE WEEK:
Junior Jack Boyle was named Co-Big Ten Gymnast of the Week following Iowa's win over UIC. Boyle contributed two event titles — rings (15.400) and floor (14.750) and finished second on parallel bars (14.400). It is Boyle's first weekly honor of his career and the first for the Hawkeyes since Matt McGrath earned the award on March 17, 2014.
NATIONALLY RANKED:
The Hawkeyes are ranked in the top 10 nationally according to the most recent release of the College Gymnastics Association (CGA) Coaches' Poll (Jan.26). Oklahoma earned the top spot followed by Stanford, Penn State, Illinois and Michigan. Ohio State and California are sixth and seventh, respectively, Minnesota is eighth, and Iowa and Nebraska round out the top 10.
1. Oklahoma
2. Stanford
3. Penn State
4. Illinois
5. Michigan
6. Ohio State
7. California
8. Minnesota
9. Iowa
10. Nebraska
HAWKEYE FACILITY RENOVATION:
The men's and women's gymnastics teams are amidst a practice facility renovation. The renovation will provide the gymnasts with more space to practice, and include two new foam pits and another pommel horse. The project will help accelerate the gymnasts' skills and improve safety at the facility. The facility — located in the UI Field House — is scheduled to be completed in February 2015.
HEAD COACH JD Reive:
Entering his fifth year as head coach of the Hawkeyes, Reive has high expectations for his team. For the first time in his career Reive has a team comprised of gymnasts he personally recruited. He is looking to take the program another step forward. In 2014, the gymnasts set seven school records and seven went on to compete individually at the NCAA Championships. The team finished seventh in the Big Ten and missed the team finals at the NCAA Championships in April.
Reive led the Hawkeyes to a fifth place finish at the NCAA Championships in 2013, their best finish in a decade. Reive graduated from Nebraska in 2000 with a bachelor of journalism degree and was an assistant at Stanford from 2003-10 where he helped the team grab four top three finishes.
SEASON TICKETS:
Fans interested in attending 2015 home meets at Carver-Hawkeye Arena should visit hawkeyesports.com or contact the UI Athletics Ticket Office at 1-800 IA-HAWKS. Season tickets are currently on sale for $10 and general admission is $5. Youth (18 & Under) and UI students are free.
UP NEXT:
The Hawkeyes travel to Champaign, Illinois, on Feb. 7 to take on No. 4 Illinois. The meet begins at 4 p.m. (CT).
FOLLOW THE HAWKEYES:
Web Address: hawkeyesports.com (see the schedule page for links to live stats and live streams)
Facebook: facebook.com/iowagymnastics
Twitter: twitter.com/iowagymnastics
YouTube: youtube.com/iowagymnastics
Live video: http://m.ustream.tv/channel/iowamensgymnastics
Live Stats: meetscoresonline.com