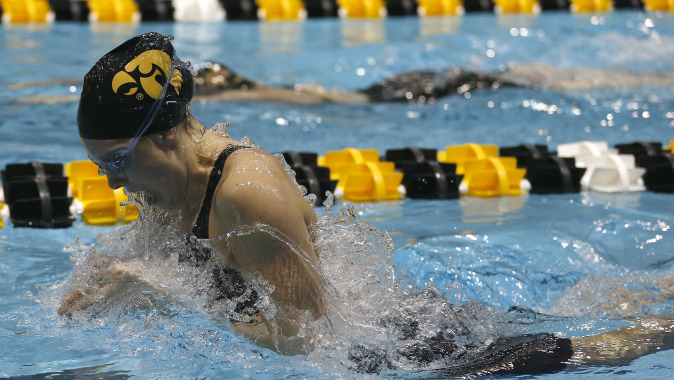 Jan. 30, 2015
Complete Results

IOWA CITY, Iowa — The University of Iowa women's swimming and diving team capped the opening day at the Shamrock Invitational Friday in South Bend, Indiana. Through 12 events in a head-to-head scoring format, the Hawkeyes currently lead Incarnate Word (64-26) and trail Notre Dame (66-25).
"It was a good start to a competitive meet," said UI head coach Marc Long. "We're here to race and get sharper. This meet is about us and taking care of what we can do and making positive adjustments as we work towards the Big Tens and postseason."
The quartet of Olivia Kabacinski, Emma Sougstad, Mekenna Scheitlin, and Meghan Lavelle jumped out to a fast start in the 200 medley relay. The foursome touched in with a second-place finish among the field with a time of 1:34.70.
In the 500 free, Becky Stoughton stole the show with a top finish in posting a top time of 4:50.79. Izzie Bindseil finished fourth (4:56.76).
"Becky was outstanding tonight in the 500 free," said Long. "She's having a great season so far and she's only getting better."
The 400 medley relay foursome of Lavelle, Sougstad, Lehnertz, and Olivia Kabacinski finished on a high note with a first-place finish touching in with a time of 3:46.90.
"We've been working hard on our relays and it's good to see it pay off," said Long. "We're racing well and we've got a big day tomorrow."
In the diving well, Lauren Kelba paced the Hawkeye divers with a third-place finish scoring 324.30 points on the 3-meter. Abby Grilli (305.85) and Lydia Lehnert(294.75) were close behind.
"We're starting to catch our groove but we've still got some work to do," said UI diving coach Todd Waikel. "It was great for Lauren to get a top-3 finish but we still need to keep improving. We were up against a really competitive Notre Dame group that outdove us tonight. We always compete to win but we're going to keep moving in the right direction. Tomorrow is a new day and we're going to get back at it and battle."
The Hawkeyes return to action Saturday at 9 a.m. (CT) for day-two action at the Shamrock Invitational in South Bend, Indiana.