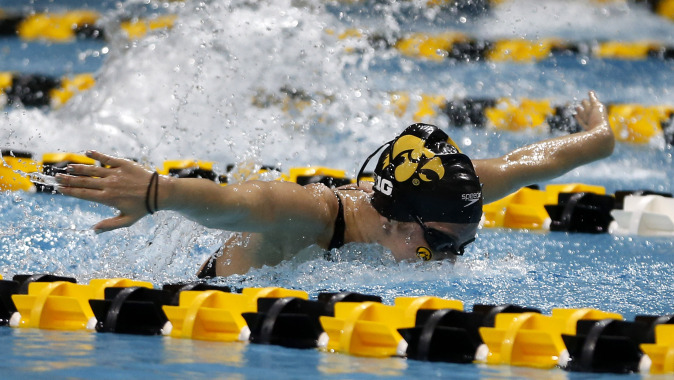 Jan. 31, 2015
Final Results

SOUTH BEND, Ind. — The University of Iowa women's swimming and diving team completed the third and final session at the Shamrock Invitational Saturday at the Rolfs Aquatic Center in South Bend, Indiana. The Hawkeyes finished the weekend's competition with a win over Incarnate Word (279-77) and fell to Notre Dame (282.50-87.50).
"We're thankful to Notre Dame for once again putting on an outstanding meet as a first-class host," said UI head coach Marc Long. "We had some gutsy racing this weekend and I'm proud of this group of athletes. It feels good to race hard and race well. It's never fun to lose but I saw some really good things."
Becky Stoughton set the tone early in the final session, picking up the team's lone win in the 1,650 free with a time of 16:22.64. Izzie Bindseil (17:22.96) finished sixth and Hillary Weigand followed in seventh (17:23.39).
"Becky had an outstanding weekend with a strong finish Saturday in the 1,650 free," said Long. "She's been great all year and she really stepped up tonight nearly breaking the pool record in a 30-year old pool."
In the 200 back, the Hawkeyes had a strong showing from newcomers Meghan Lavelle and Rowan Hauber. Lavelle finished third (2:02.22) and Hauber was close behind coming in fourth (2:03.50).
Lauren Leehy paced the Black and Gold in the 100 free with a third-place time of 51.96. Hauber was a nose behind touching in at the 51.99 mark.
The Hawkeyes also had a third-place showing in the 400 free relay. The quartet of Meghan Lavelle, Lauren Leehy, Olivia Kabacinski, and Emma Sougstad swam a time of 3:29.55. Taylor Flummerfelt, Nikol Lagodzinska, Allison Orvis, and Carly O'Brien finished fourth (3:34.36).
Sougstad also swam to a fourth-place finish in the 200 breast. The Forest City, Iowa native touched in with a time of 2:17.74.
In the diving well, the Hawkeyes gathered third and fifth place showings from Joelle Christy and Abby Grilli. Christy finished third posting a score of 281.20 and Grilli was close behind coming in fifth off of 279.75 points.
"It's disappointing that we left some dives out there but we continued to battle and kept fighting," said UI diving coach Todd Waikel. "Joelle and Abby both missed at least one dive a piece which can be a setback but they both stuck in there and kept fighting and I was glad to see they never gave up. Joelle really impressed me by making it back into the top-3 finishers. We're going to take what we learned from this meet and keep working towards Big Tens."
The Hawkeyes return to action Feb. 6, hosting Western Illinois and South Dakota at 6 p.m. (CT) in the Campus Recreation and Wellness Center Natatorium in Iowa City.