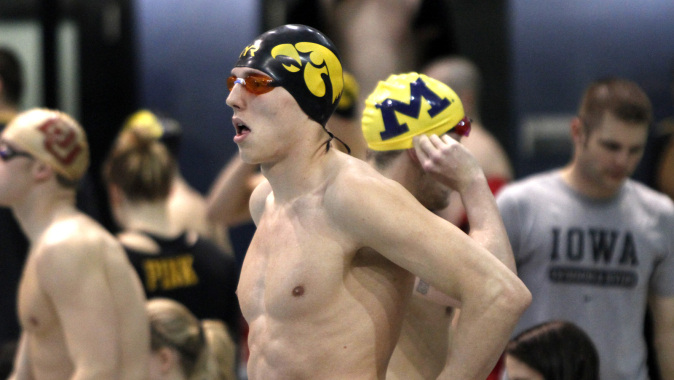 Jan. 30, 2015
Final Results

SOUTH BEND, Ind. — The 19th-ranked University of Iowa men's swimming and diving team wrapped up day-two competition at the Shamrock Invitational Saturday at the Rolfs Aquatic Center in South Bend, Indiana. The Hawkeyes posted wins over Notre Dame (195-175), Incarnate Word (299-69), and Missouri State (215-153).
"We're thankful to Notre Dame for once again putting on an outstanding meet as a first-class host," said UI head coach Marc Long. I'm proud of this group of athletes and very pleased with our performance this weekend. We packed in a championship-style meet in a 24 hour span which made for some gutsy racing."
The Hawkeyes posted three straight wins down the final stretch to take control of the lead as the meet winded down. Roman Trussov was the first to get things going in the 200 breast — leaving his mark with a new pool record. Trussov led the field touching in with a first-place time of 1:58.86.
"Roman was outstanding tonight," said Long. "To break a pool record at Notre Dame in this 30-year old aquatic center is really something special."
Newcomer Jerzy Twarowski followed up with a win in the 200 fly to extend the Black and Gold lead. The Krakow, Poland, native touched in at the 1:58.86 mark.
"Jerzy is impressing everyone with what he's been able to do so far this season as just a freshman," said Long. He's putting together quite a year and I'm excited to see how far he can go."
In the 400 free, the quartet of Joseph Halsmer, Brian Donatelli, Grant Betulius, and Thomas Rathbun swam to Iowa's final win. The foursome swam to a top time of 3:01.08. Halsmer and Betulius also had third-place showings in their respective individual events. Halsmer finished third in the 100 free (45.58) and Betulius in the 200 back (1:50.50).
Two Hawkeyes also captured runner-up finishes in the final session. Chris Dawson in the opening event — the 1,650 free — coming in with a time of 15:41.64 and Andrew Parker in the 200 back 1:48.67.
A talented group of Notre Dame divers stole the show in the diving well taking four of the top five spots. UI divers Brandis Heffner (332.50), Matthew Mauser (329.95), and Addison Boschult (326.20) finished 6-7-8 for the Black and Gold.
"It's disappointing that we left some dives out there but we continued to battle and kept fighting," said UI diving coach Todd Waikel. "Brandis, Matthew and Addison each missed at least one dive a piece which can be a setback, but they stuck in there and kept fighting. I was happy to see Matt get his Zone Diving Standard and that's a really great accomplishment for him. We're going to take what we learned from this meet and keep working towards Big Tens."
The Hawkeyes return to action Feb. 6, hosting Western Illinois and South Dakota at 6 p.m. (CT) in the Campus Recreation and Wellness Center Natatorium in Iowa City.