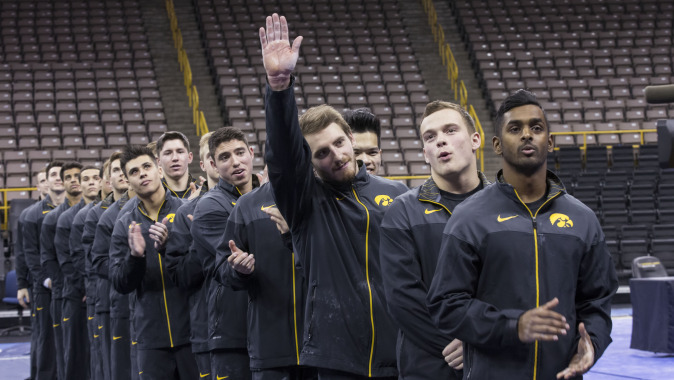 Jan. 31, 2015
Editor's Note: The following first appeared in the University of Iowa's Hawk Talk Daily, an e-newsletter that offers a daily look at the Iowa Hawkeyes, delivered free each morning to thousands of fans of the Hawkeyes worldwide. To receive daily news from the Iowa Hawkeyes, sign up HERE.
BY JACK ROSSI
IOWA CITY, Iowa — The ninth-ranked University of Iowa men's gymnastics team is on the brink of becoming a top program in the country.
The team entered the 2015 season with high expectations. Between development of young student-athletes and the veteran leadership of others, the Hawkeyes have been making progress. The team started the year with a fourth place finish at the Windy City Invitational, then followed it up with a dominating victory over No. 18 UIC in front of its first home crowd inside Carver-Hawkeye Arena.
For his efforts in the win, junior Jack Boyle was named Co-Big Ten Gymnast of the Week. He grabbed two event titles, winning rings with a score of 15.400 and floor with a score of 14.750, and placed second on parallel bars (14.400) to lead the Hawkeyes to their 428.600 to 398.00 victory. It was the first conference honor for the Naperville, Illinois, native.
Despite the accolades, there is work to be done and fifth-year head coach JD Reive thinks this is the first step of many.
"The UIC meet was much more indicative of what our guys are like in practice," Reive said. "Not exactly the same, but it is still very early in the season. We need to continue to make improvements and continue training with the same intensity that we had preparing for that competition."
Student-athletes and coaches alike believe they can compete with any team in the country. They have the talent, but it's all about putting it together on the floor at once.
"Confidence is key," Reive said. "Physically, we are in a good place. They are strong, fit, and can handle the gymnastics they're doing. It's being able to get out there and not over-think things and have that get in their own way. Their muscle memory and over-thinking tendencies conflict and then mistakes are made."
The Hawkeyes believe that they are capable of accomplishing higher team scores along with the top tier programs in the nation. An overall score of 440.000 would place them among the country's elite. Iowa scored a 428.600 against UIC.
"Putting a 440.000 on the board is definitely doable," Reive said. "We should have been above a 430.000 against UIC. We were close. We can do it, but we need a couple more meets under our belt until we can really hit that top performance on the floor."
Breaking the 440.000 threshold would shatter the team's current record for overall score of 437.250. With a strong schedule remaining against top programs, redshirt senior Lance Alberhasky believes Iowa is ready to compete with the best of the best.
"It's different this year," Alberhasky said. "Were not looking to just hang with top teams and let them win the meet. We are ready to hit our routines and be comparable to them. If we have a good meet, then we can beat them. It's about time we get on the podium."
Keeping the confidence level high is especially important in the remainder of the regular season, with remaining meets against six top 10 programs including, Oklahoma, Ohio State, Minnesota, Nebraska, Illinois, and Penn State.
To prepare, Reive has a plan.
"We are going to do a thousand routines on every event."
The Hawkeyes host No. 1 Oklahoma and No. 6 Ohio State on Sunday in Carver-Hawkeye Arena. The meet begins at 12 p.m. (CT).