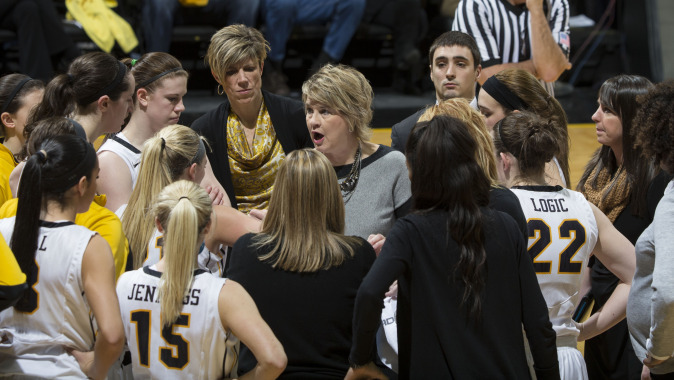 Feb. 5, 2015
Lisa Bluder: We took care of business on our home court tonight. A very important game because they're breathing on the back door there for second place. I thought our defensive effort was outstanding tonight. We just kept track — Mitchell has half of her points she's been averaging. Ameryst has half of the points she's been averaging, and that is obviously the key to our winning tonight.
So I thought our players did a great job of communicating out there, and I thought the top, Melissa, Whitney, Sam when she was up there, I thought they did a great job on those two players and really communicating where they were. We have four players in double figures. Sam's one rebound away from a double-double. Again, I'm really happy with the defense and we won rebounding.
Q. Talk about the quick start?
Lisa Bluder: It was big. We got our transition going. We forced some turnovers and got it going. Those are high-percentage shots for us, so that was good. They took that away from us in the second half, but I thought that an early start was good.
Q. Was it defensive intensity on your part?
Lisa Bluder: I think they really talked well. They communicated where she was all the time, and we respected them coming in here.
Q. How frustrating were the turnovers?
Lisa Bluder: Yeah, again, our fast break was there in the first half, and second half they did a great job of getting back. I think we had some turnovers trying to push it. But it's hard. When you've been successful at it and been able to push, it's hard to pull back the reins a little bit. But several times they were making a run, and I thought we had some untimely turnovers. But I never like turnovers, no matter when they are.
Q. Coach, preliminarily what is Wisconsin's concern on Sunday?
Lisa Bluder: I watched them play Ohio State, but I was watching Ohio State. We've been fairly successful at Wisconsin. It's been a good road place for us to win. I know they've won more games this year, I understand, than they have in the past in the Big Ten. So they're obviously playing well.
Sam is from Wisconsin. That means a lot to us whenever we play in someone else's home state. We want to make them proud that they left their home state and chose us. Megan Gustafson who is a recruit, obviously, that's come in next year. You have Carly Mohns. We want to go up there and do well because it's been a good recruiting area for us, so we certainly want to shine there.