Feb. 7, 2015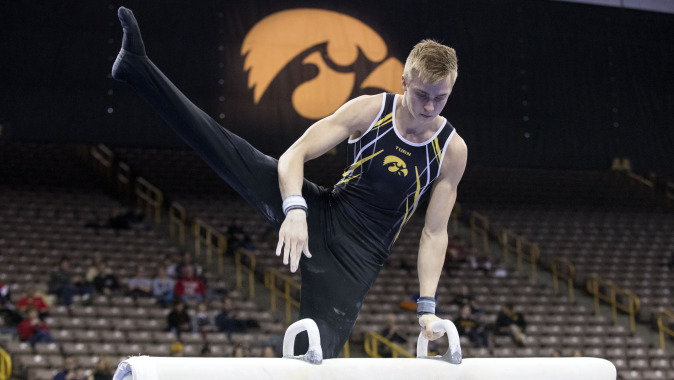 PDF Results

IOWA CITY, Iowa — The No. 8-ranked University of Iowa men's gymnastics team traveled to Champaign, Illinois, Saturday to square off against the No. 4-ranked Illinois in a dual meet. The Hawkeyes fell to the Illini 440.150 – 424.500.
"I am not happy with how we performed today," Reive said. "We competed with fear and didn't show up when we needed to. I thought we didn't perform how we are capable. We are going to be competing against the top teams this season and we are going to keep training like one this week."
Iowa began the meet on pommel horse. Junior Doug Sullivan led the Hawkeyes, tallying a score of 14.850 and clinching the team's only event title. Junior Del Vecchio Orozco finished fourth for the Hawkeyes (14.500) and freshman Austin Hodges had a bounce back routine after struggling last week, scoring a career high 14.450.
In the second rotation, Iowa moved to floor exercise. Junior Cyrus Dobre-Mofid finished third on the event with a 14.750 effort. Junior Matt Loochtan finished in sixth place after tallying a 14.400, while senior Brandon Field followed in seventh with a score of 14.250.
Field led the Hawkeyes on vault in the third rotation, scoring a 14.700 and second place on the event. Dobre-Mofid and sophomore Andrew Botto scored a 14.400 tying them for fifth place. After three rotations Iowa trailed Illinois 212.950 – 219.700.
The Hawkeyes moved to rings next. Boyle led the team for a third straight week, posting a 14.900 and placing fourth in the event. Loochtan followed behind finishing fifth (14.850), while senior Lance Alberhasky finished eighth with a 14.350 effort.
With two rotations remaining, Iowa moved to high bar. Dobre-Mofid led the Hawkeyes with a 14.250 effort and a fourth place finish. Alberhasky placed sixth with a score of 14.100, and sophomore Cory Paterson followed him in seventh with a score of 13.950.
Iowa moved to parallel bars for the final rotation. Freshman Dylan Ellsworth set a new career high, scoring a 14.450 on his way to a fifth place finish to lead the Hawkeyes. Boyle placed seventh, posting a 14.250 and Loochtan tied for eighth following a score of 14.100.
The Hawkeyes return to Iowa City for their final home meet on Feb. 14 against Big Ten rivals Minnesota and Nebraska. It will be Senior Night for William Albert, Brandon Field and Lance Alberhasky, who will be honored after the competition. The meet will be televised live by the Big Ten Network inside Carver-Hawkeye Arena. The meet begins at 7:30 p.m. (CT).