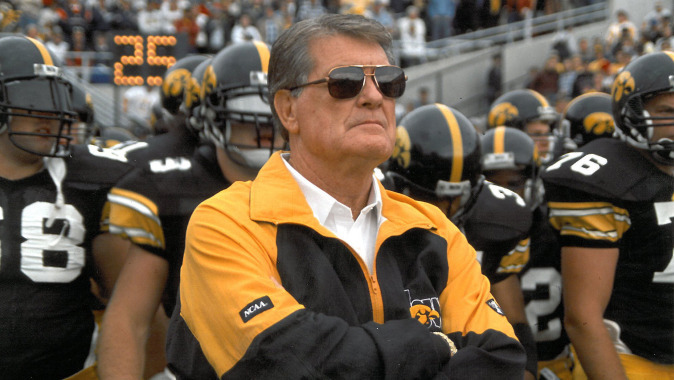 Feb. 9, 2015
DALLAS, Texas – Former University of Iowa head football coach Hayden Fry will be honored with the inaugural Legends Award at Southern Methodist University.
The Legends Award, presented by the SMU Lettermen's Association and Department of Athletics, recognizes an individual who has made extraordinary contributions to the success and legacy of the SMU Athletics Program that fall outside of the realm of athletic success.
Fry will be the first individual to be honored with the newly created award at the SMU Hall of Fame Banquet on May 1.
Fry served as Iowa's head coach from 1979-1998. He led the Hawkeyes to a 143-89-6 record and is Iowa's all-time winningest football coach. Fry led Iowa to 14 bowl games, three Big Ten titles and three Rose Bowl appearances. Fry retired from coaching following the 1998 season, finishing his career with a record of 232-178-10 record as a head coach. His win total at that time placed him 10th all-time among collegiate coaches.
The timing of the award is significant, as 2015 marks the 50th anniversary of legendary wide receiver Jerry LeVias' arrival to SMU, as the first African American to receive an athletic scholarship in the Southwest Conference. Fry, who served as head coach and athletic director at the time, made the courageous decision to sign LeVias, thereby altering forever the course of collegiate athletics in the southern United States.
"The impact of Coach Fry's historic decision to welcome Jerry LeVias as a scholarship student-athlete was transformative," said SMU Athletics Hall of Fame Committee Chair Jim Johnston. "It was this event in particular that led the Lettermen's Association and Athletics Department to honor Coach Fry with this award."
Fry, the eighth head coach in SMU football history, was hired in 1962. During his 11 seasons on the Hilltop, Fry led SMU to three bowl appearances, the 1963 Sun Bowl, 1966 Cotton Bowl, and the 1968 Bluebonnet Bowl. Under Fry's leadership, SMU won its first Southwest Conference Title in 18 years in 1966. Fry also coached some of the greatest players in school history such as LeVias, Chuck Hixson, Mike Richardson, Jim Livingston, Gary Hammond, John LaGrone, and Mac White.
Fry, who played quarterback at Baylor from 1940-50, also coached at North Texas before taking over the Iowa program.
Fry's influence on college football can be seen on a national level, with former players and assistants including Oklahoma head coach Bob Stoops, Iowa's Kirk Ferentz, Wisconsin's Barry Alvarez, Arkansas' Bret Bielema, Kansas State's Bill Snyder, North Texas' Dan McCarney, and Kentucky's Mark Stoops, among others.
Fry was inducted into the College Football Hall of Fame in 2003, in the same class as LeVias. Fry has received numerous other honors for his college football contributions, including induction into the North Texas Athletic Hall of Fame, the University of Iowa Athletic Hall of Fame, the Rose Bowl and Sun Bowl Halls of Fame, the Peach and Holiday Bowl Halls of Fame and the United States Marine Corps Hall of Fame.
Fry also received the 2012 Paul "Bear" Bryant Award, given by the American Heart Association. Fry was also given the Amos Alonzo Stagg Award in 1997, presented by the American Football Coaches Association.
For information on purchasing tickets to the SMU Hall of Fame Banquet, fans can call 214-768-4314, email Jeff Lockhart at lockhart@smu.edu or visit www.smu.edu/halloffame.