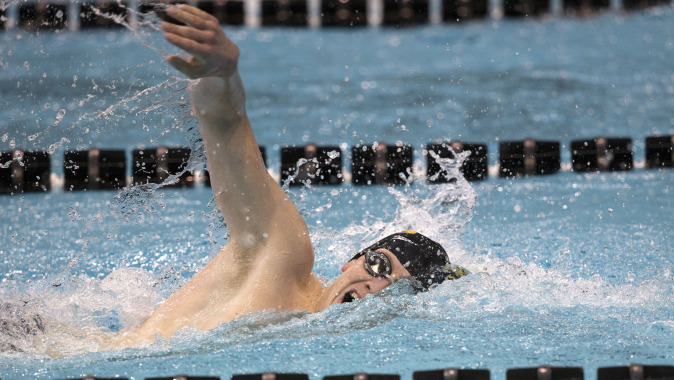 Feb. 10, 2015
Editor's Note: The following first appeared in the University of Iowa's Hawk Talk Daily, an e-newsletter that offers a daily look at the Iowa Hawkeyes, delivered free each morning to thousands of fans of the Hawkeyes worldwide. To receive daily news from the Iowa Hawkeyes, sign up HERE.
By BEN SCHMITZ
IOWA CITY, Iowa –When freshman Chris Dawson made the decision to relocate more than 800 miles to join the University of Iowa men's swimming team, he did so with little knowledge as to whether or not he would impact the 2015 roster. Now midway through his first season, the Centennial, Colorado, native has proven himself as one of the team's top distance performers.
Still in his first year, Dawson leads the Hawkeyes in four separate events — 500 free, 1,000 free, 1,650 free, 400 IM — and ranks eighth among the men's all-time top performances in the 1,650 free (15:28.38) and 400 individual medley (3:56.72).
"I came in with the same expectations as every other freshman," said Dawson. "I knew it was going to be a new experience and I wanted to swim to the best of my ability regardless of the placings.
"I knew the opportunities at a Division I school would be different than high school. The ability to compete on a team where you're pushed by teammates every day is special. For me, that's something I've never had before. If I didn't have the training partners or the support system that surrounds me, I wouldn't be in this position."
A key member of that support system is teammate Kyle Gannon. Gannon, now in his sophomore season, was in Dawson's shoes a year ago and took on similar responsibilities while adapting to a new program.
"It's been a privilege working with Kyle," said Dawson. "It's great knowing we have the next 2 1/2 years to work together. Coming in I was little scared and didn't know what was going on here. He took me under his wing and gave me advice that helped me adapt to different situations. He'll talk to me in practice and before races to calm me down and wish me luck."
Although the Gannon-Dawson duo leads the distance squad in 2015, it's only their first year together, and as UI head coach Marc Long points out — they're only getting started.
"It's a developing distance group, which is nice, and we've got some freshman coming in this fall that will contribute," said Long. "When you're swimming those long events, that group has to have just as unique of an identity as our sprint groups. There's a certain badge of honor that goes with being in those distance groups and you've got to be tough, which these guys have certainly proved."
Long has a knack for developing incoming freshman into legitimate collegiate competitors. Although no student-athlete is a guarantee, Long sought out all right attributes in Dawson as they made the transition.
"Trying to figure out freshmen is always challenging with all the adapting that has to happen physically, socially, and academically, but Chris has been an outstanding addition to the program," said Long. "He's dedicated, is a hard worker, and is only getting better and better. It's going to be a fun ending to his first year here in a couple of weeks, and we'll see how far he can make it."
Despite not having specific goals in mind, Dawson is always trying to best his previous performances while excelling in the pool.
"I try not to limit myself to one particular goal," said Dawson. "I'm constantly trying for personal bests every time I get in the pool. Ultimately this season, I'd like to perform well at the Big Tens and make it to the NCAAs, which would be something special."