Feb. 10, 2015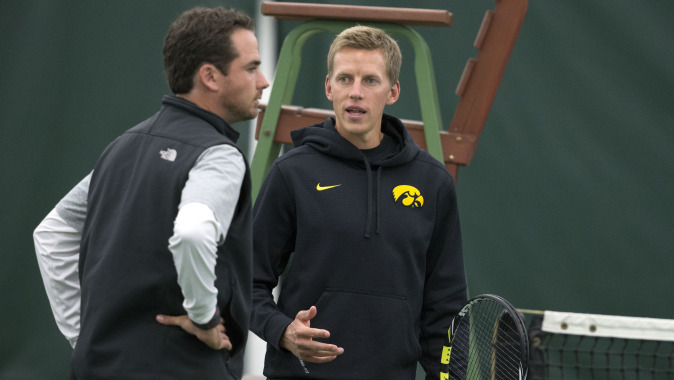 Editor's Note: The following first appeared in the University of Iowa's Hawk Talk Daily, an e-newsletter that offers a daily look at the Iowa Hawkeyes, delivered free each morning to thousands of fans of the Hawkeyes worldwide. To receive daily news from the Iowa Hawkeyes, sign up HERE.
BY JACK ROSSI
IOWA CITY, Iowa — The University of Iowa men's tennis team has gone through a face lift with Ross Wilson taking over as head coach and the addition of one of his good friends, Ty Schaub, as an assistant.
The Hawkeyes are 4-1 following a victory over Marquette on Feb. 6 at the Hawkeye Tennis and Recreation Center and, Schaub has meshed well with the team in his short time with the program.
"It's great working with Ty," Wilson said. "We've known each other since we were 12 years old and we played at Ohio State together. We think the same way. The guys like him on the court and he's a relentless recruiter; he's a good addition to the Iowa tennis program."
It's a different feeling, but the similarities in their game make it easy for the Ohio State alums to work together like veterans.
"It's a different environment working together, but it's kind of the same thing," Schaub said. "When you're friends with somebody you're working with it's easier. We have similar mindsets and goals."
Wilson and Schaub competed at Ohio State together in 2006 where on the same Big Ten championship team. After graduating in 2009, Schwab went to Penn as an assistant coach, and the two kept in touch until a phone call presented Schaub with a new opportunity.
Wilson has a year under his belt and a plan in place for the Hawkeyes. Adding Schaub into the mix gives the team more flexibility because of the chemistry the two already share.
"There's always chemistry with similar experiences going through the same things," Schaub said. "I think you always pick up some little things everywhere you go to coach, and I believe Ohio State provided a good chunk of those experiences that helps us out here."
Wilson made it easy for Schaub to fit in with a plan in place and he has a young team that has bought into the philosophy that both coaches are familiar with from their playing days.
"Ross has everything in motion after building off last year," Schaub said. "It was an easy transition for me because we've known each other for so long. The guys have put in work, too. We have a group of guys that are committed, and we want to provide them with the tools they need."
The Hawkeyes travel to Provo, Utah, on Feb. 14 for a match against BYU beginning at 4 p.m. (CT). Iowa will also face Utah in Salt Lake City on Feb. 16.