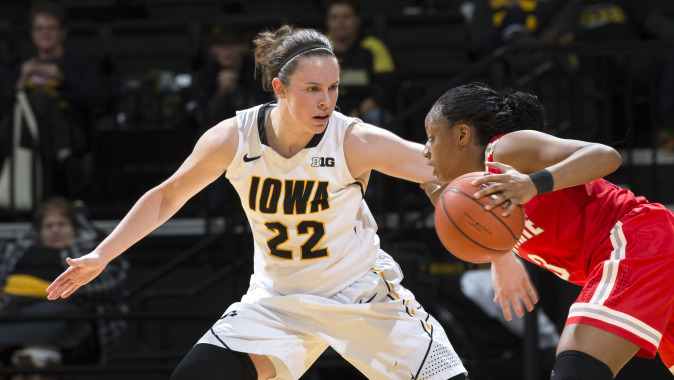 Feb. 11, 2015
IOWA CITY, Iowa — University of Iowa senior point guard Samantha Logic was named to the Naismith Trophy Women's Midseason 30 list this afternoon, the Atlanta Tipoff Club announced. The award is given to the women's college player of the year in early April.
Logic is one of three players from the Big Ten to appear on the list, joining sophomore Lexi Brown of Maryland and sophomore Tyler Scaife of Rutgers. To view the complete Naismith Trophy Women's Midseason 30 list, visit naismithtrophy.com.
Logic — the Big Ten leader in assists — has also been named to the 2015 Nancy Lieberman Award Watch List, a 2014-15 `Wade Watch' candidate, the John R. Wooden Award Women's Midseason Top 20 List, and the Dawn Staley Award Watch List. The preseason All-Big Ten honoree and ESPN All-American is also a candidate for the 2015 Senior CLASS Award and is a Capital One Academic All-District selection.
Logic is the NCAA's active career assists leader (791) and is tied for fourth in assists in Big Ten history. She leads the Big Ten and ranks fifth in the NCAA in the category this season (7.3), while averaging 12.0 points and 6.8 rebounds per game.
The Racine, Wisconsin, native most recently led the Hawkeyes to victory with a career-high 30 points at Wisconsin on Feb. 8. She is tied for the fifth-most triple-doubles in NCAA history (five), and the most by any player as a member of the Big Ten. Suzie McConnell of Penn State (1985-88) and Louella Tomlinson of St. Mary's (CA) (2008-11) hold the career record with seven.
Logic (5-foot-9) — the 2014 Big Ten leader in assists — was the only player in the nation to average 13 or more points (13.3), six or more rebounds (6.6), and seven or more assists (7.5). She led the Big Ten in league play in assists (8.0) and steals (3.0). Logic was named Big Ten Player of the Week three times, while also being named to the Big Ten Player of the Week Honor Roll four additional times. She was named 1-of-22 watch list finalists for the 2014 Nancy Lieberman Award (nation's top point guard).
The two-time Academic All-Big Ten honoree and Big Ten Distinguished Scholar, who ranked third nationally in assists last season, notched three triple-doubles, becoming the first Big Ten player to record three triple-doubles in a single season. Logic ranked second nationally in triple-doubles; Alyssa Thomas of Maryland had four. Entering the 2013-14 campaign, there had only been 11 seasons in NCAA history in which a player registered three or more triple-doubles.
No. 13 Iowa (19-4, 10-2) travels to face No. 20 Nebraska (17-6, 7-5) on Thursday, Feb. 12. Tipoff is set for 8 p.m. (CT), and the game will be shown live on the Big Ten Network.